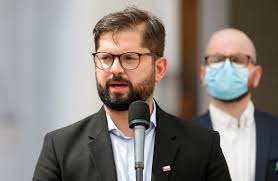 CLIQUEZ ICI pour le français
September 16, 2022 
Ottawa – B'nai Brith Canada today issued a letter to Raul Fernandez, Chile's Ambassador to Canada, calling on his country to apologize for recently snubbing Gil Artzyeli, the new Ambassador of Israel to Chile.  
The incident occurred yesterday. Ambassador Artzyeli arrived at the Presidential Palace in Santiago as scheduled, to present his credentials, only to have President Gabriel Boric unilaterally decide to insult the Ambassador and cancel the meeting. 
Apparently, President Boric does not seem to believe that Israel has the right to defend itself from terrorism. To justify the unprecedented and insulting breach of diplomatic protocol, Boric referred to a recent incident in which a young gunman connected to a Palestinian terror group was killed in a clash with the Israeli army.  
"Rather than denounce the recruitment of child soldiers and minors by Palestinian terrorist groups, Boric slammed Israel for not allowing Jews to be killed," said Michael Mostyn, CEO of B'nai Brith Canada. "Boric must apologize or risk irreparable harm to Chile's international reputation." 
In the letter to Ambassador Fernandez, Mostyn explained that President Boric's behaviour will diminish Chile's standing in the democratic world and have real-world consequences – fomenting hate at Jews world-wide, including in Canada. 
Boric, a left-wing leader who has been sharply critical of Israel, was elected president last year in a landslide victory. 
"This is appalling. It will cloud relations between the two counties and foster antisemitism and hatred aimed at Jews around the world," said Marvin Rotrand, National Director of B'nai Brith Canada's League for Human Rights. "A robust apology is needed.  We do not believe that Chileans agree with Boric's openly anti-Israel animus." 
Israel was obliged to summon Chile's Ambassador and condemn the snub. B'nai Brith will meet formally with Ambassador Fernandez to discuss the issue, later this month.