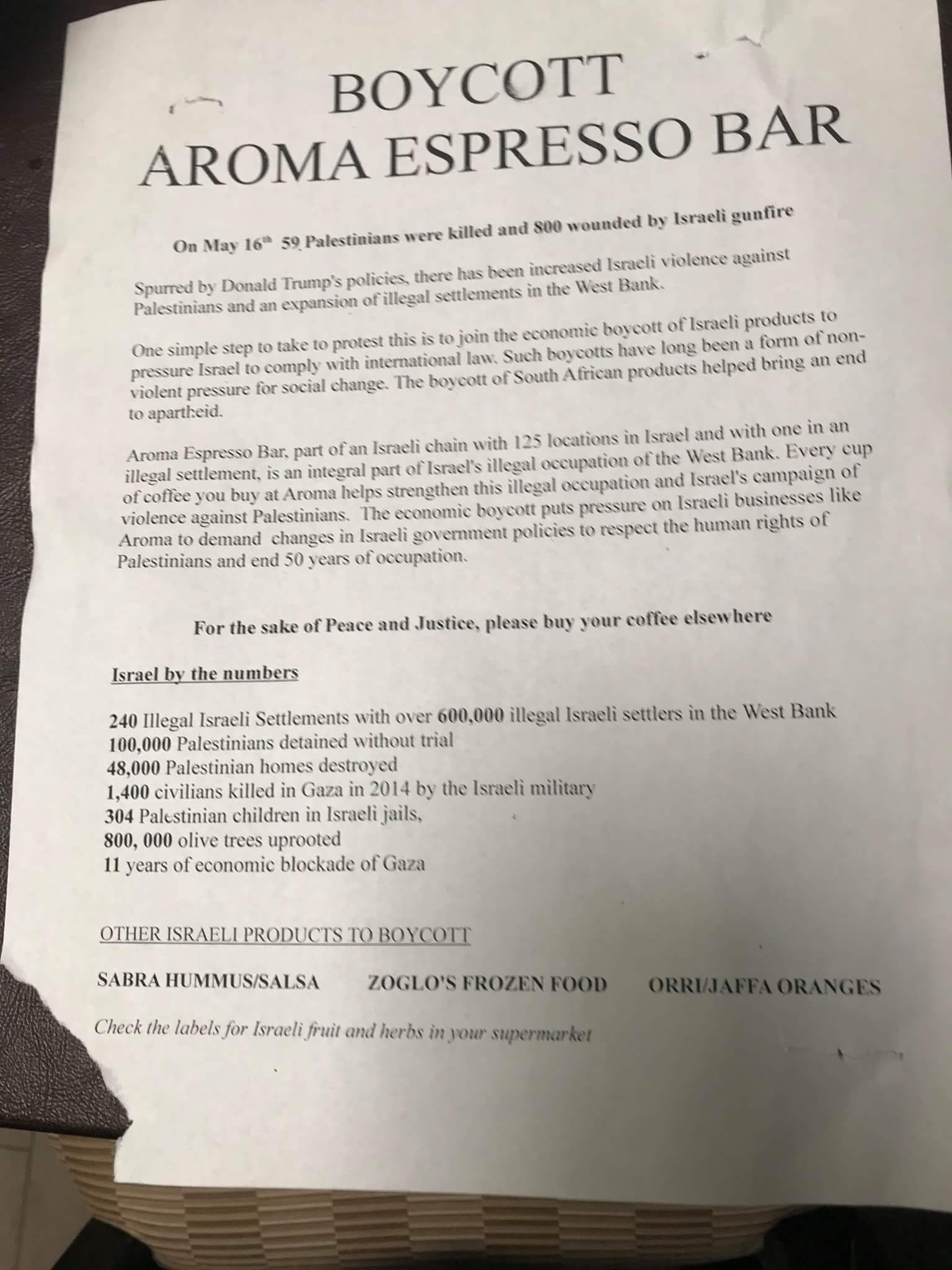 June 4, 2018
By Sara Gruszczynski
Communications Associate
B'nai Brith Canada
TORONTO – B'nai Brith Canada is urging residents of the Greater Toronto Area to be on the lookout for posters promoting the antisemitic boycott, divestment and sanctions (BDS) campaign after several were spotted in the Annex neighbourhood of downtown Toronto.
The posters encourage Canadians to boycott the coffee franchise Aroma, an Israeli company, as well as Sabra Hummus (an American/Israeli company), Zoglo's Frozen Food, and Orri/Jaffa oranges.
"Whenever there is heat on that side of the world, we get the backlash here," said Anat Davidson, managing partner of Aroma Canada, in an interview with The CJN.
Anyone who spots the posters is encouraged to call B'nai Brith's Anti-Hate Hotline at 1-800-892-BNAI.
The posters contain a multitude of glaring inaccuracies, falsely claiming that there has been "increased Israeli violence against Palestinians" due to "Donald Trump's policies," and that buying from the coffee chain "strengthens Israel's campaign of violence against Palestinians."
"For the sake of peace and justice, please buy your coffee elsewhere," the poster concludes.
Daniel Koren, Media Coordinator for B'nai Brith Canada, condemned the posters as both discriminatory and xenophobic.
"The BDS movement aims to demonize and delegitimize the State of Israel through carefully curated propaganda," he said. "These posters do nothing to promote peace between Israelis and Palestinians. Instead, they falsely claim that supporting a coffee chain in downtown Toronto somehow leads to violence against Palestinians, which is obviously absurd."
A rash of neo-Nazi and antisemitic materials were also discovered in midtown Toronto last week, with some claiming that, "The Nazi youth are here" and that the Jewish Star of David is a symbol of "degeneracy."
The public promotion of antisemitic messages in #Toronto is totally unacceptable. These posters are part of a perverse attempt to target Jewish and Israeli Canadians and ostracize them in their own neighbourhoods. 1/2 https://t.co/yIjqTQjEDI

— Michael Mostyn (@MichaelMostyn) May 28, 2018