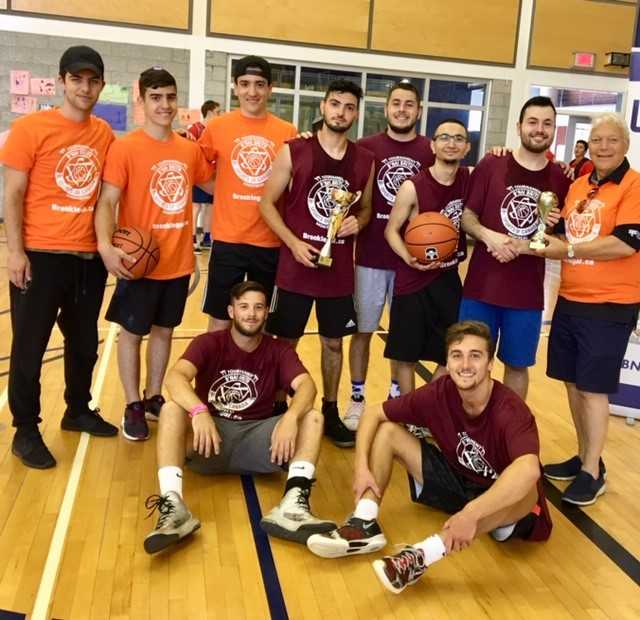 August 13, 2019
QUEBEC CONFIDENTIAL | By Mike Cohen
MONTREAL – B'nai Brith Canada recently held its first basketball tournament in Quebec. The event was not only an enormous success, but it also sparked the interest of almost three dozen youths who now want to learn more about B'nai Brith and get further involved in the community.
The arrival earlier this summer of Benjamin Liber, a student at the John Molson School of Business, prompted Quebec Regional Director Harvey Levine to take a new approach to youth engagement within his region. An avid basketball player in his day, Levine decided to draw from the success of the B'nai Brith Sports Program. He asked Liber to assemble a few teams for an early August tournament.
Liber, a B'nai Brith intern and community program researcher, was more than up for the challenge. He began reaching out to his peers, many of them his former classmates at Hebrew Academy, and got a commitment from no fewer than 36 players. They each paid $36 to cover the expenses, and five teams were formed and identified by their jersey colours: green, red, blue, black and burgundy. A round robin format ensued. The green team was eliminated and did not advance to the semifinal.
In the first semi-final game, the black team was seeded No. 1 after a 2-0 run, while the burgundy team went 0-2 and was seeded fourth. Nonetheless, burgundy pulled off a surprise victory and prevailed in the semifinal round. Meanwhile, the red team, comprised mostly of recent high school graduates, pulled off an upset of its own, defeating the blue team. Burgundy ended up taking the final game by a slim margin of 66-64. David Friedman of the red team had a chance at an open three-pointer with five seconds left that would have put his team ahead by a point, but unfortunately for them the shot did not go in.
The tournament MVP was Aaron Azeroual of the burgundy team, who put up a whopping 50 points in their semi-final game.
Levine and Liber were grateful to local lawyer Daniel Brook (www.brooklegal.ca), who stepped up and sponsored the jerseys. "I believe in B'nai Brith and what they do," said Brook, who has a general practice in family, civil, criminal and commercial litigation. "I would love to work with B'nai Brith in future."
Levine called the atmosphere at the Côte Saint-Luc Aquatic and Community Centre fantastic. "Ben did an amazing job," he said. "The calibre of play was superb. We had a kosher pizza lunch, snacks, trophies and great enthusiasm."
MVP Azeroual, 24, said he was proud to have participated in this tournament, and "even more honoured to have received MVP. I did not know a lot about B'nai Brith and what it does, but I am sure I can find some time during the year to help."
Binny Freundlich, the 17-year-old captain of the red team, is the son of the Tifereth Beth David Jerusalem Congregation's Rabbi, Yechezkel Freundlich, and just graduated Hebrew Academy. "In a few short weeks, I will be headed off to study in Israel at Yeshivat Sha'alvim for the year," he said. "I moved to Montreal recently and I was not so aware of the involvement of B'nai Brith in our community. I would definitely consider getting involved after learning about all the incredible things they do. I think sports and tournaments are a great way to advocate for anything. I'm so glad I was able to learn more about this truly amazing organization."
Efraim Liber, a 19-year-old member of the black team, said he really enjoyed the tournament, wishes to participate in another one and, at the same time, learn more about B'nai Brith Canada "and get involved one day."
Levine hopes to organize a similar tournament during the winter.
Mike Cohen is B'nai Brith Canada's Quebec news bureau chief, a veteran writer and municipal politician. He can be reached at [email protected]. Follow him on Twitter at @mikecohencsl.