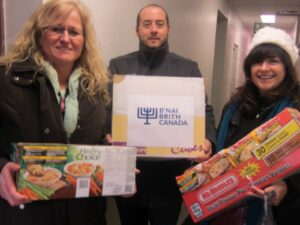 By Tevy Pilc
Staff Writer/Researcher
B'nai Brith Canada
B'nai Brith Canada is proud to have partnered up with the Main Street Project organization to donate food to the needy in Winnipeg. Since 1972, the organization has served the city's most vulnerable by offering a safe place of respite, shelter and support, with dignity and without judgment, to individuals experiencing homelessness and addiction.
On Jan. 10, B'nai Brith Canada's Midwest Region Programming Coordinator Adriana Glikman and board member Jordan Farber dropped by the Main Street Project headquarters to deliver a sizeable food donation.
According to Glikman, the initiative began with B'nai Brith's chess tournament,  where participants and observers brought food donations in order to distribute them to the needy. Following B'nai Brith's Chanukah Food Drive in December, Glikman and Farber decided to deliver the remainder of the nonperishable food items to the Main Street Project, which helps Winnipeg's most vulnerable residents.
"That's what we do, people helping people," said Glikman. "They have a lot of people at the program and it's not fully subsidized by the government, so I thought it was a good idea for us to be there, and the people were so grateful."
B'nai Brith hopes to continue its relationship with the Main Street Project for many years to come.
For more information on volunteering with B'nai Brith, click here.