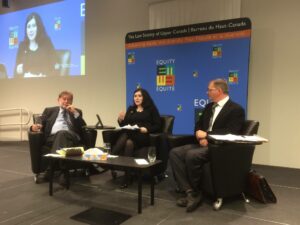 April 26, 2017
By Aidan Fishman
Campus Advocacy Coordinator
B'nai Brith Canada
TORONTO – B'nai Brith Canada joined the Law Society of Upper Canada in presenting its annual Holocaust Remembrance Day Program Tuesday night at Osgoode Hall in Toronto.
This year's theme was Holocaust denial and the efficacy of Canada's hate speech regulations. It was a first-rate event.
Opening remarks were delivered by Julian Falconer, a bencher of the Law Society, and Michael Mostyn, Chief Executive Officer of B'nai Brith Canada. Cantor Aaron Bensoussan delivered a prayer in memory of the victims of the Holocaust.
Attendees heard emotional testimony from Edith Gelbard, a Holocaust survivor born in Vienna who survived the war while disguised as a non-Jewish child at a school in southern France. Gelbard stressed the importance of educating future generations to eradicate the societal hatred that fueled the Holocaust and other genocides throughout history.
Amanda Hohmann, National Director of B'nai Brith Canada's League for Human Rights, moderated a panel discussion with Mark Freiman, former Deputy-Attorney General of Ontario and President of the Canadian Jewish Congress, and Sam Goldstein, a criminal defence lawyer who has appeared before the Supreme Court. Freiman and Goldstein surveyed the state of hate speech laws in Canada, and offered various perspectives on how to stem the increasing tide of bigotry in North America, especially online.
"The law can be a great force for good, or a force for evil," Mostyn said. "In Canadian history, the law was abused in order to enable the shameful residential schools that were imposed on First Nations people, and the law was also used to strip European Jews of their rights and ultimately their lives.
"We thank the Law Society of Upper Canada for recognizing the transformative value of legal education, and for partnering with us for this event on a yearly basis."