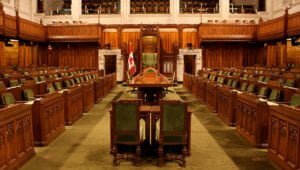 Dear B'nai Brith Supporter,
This week, the House of Commons passed a motion condemning the anti-Israel Boycott and Sanctions movement, a great first step in recognizing the movement for what it truly is, another form of antisemitism. As we all know, boycott activists have no interest in actively helping Palestinian Arabs. They seek only to demonize and delegitimize Israel.
Our community owes a big Thank You to Prime Minister Justin Trudeau, as well as MPs Tony Clement and Michelle Rempel who brought this motion forward, and the 229 Members of Parliament who voted in support. We can all be pleased that the State of Israel, through this motion, has received strong bipartisan support from both the Liberal and Conservative parties.
During the debate, many Members of Parliament spoke to the motion. Below is a time-stamped list of a select number of Parliamentarians in the House of Commons discussing the motion. Those interested in viewing can click Here. Please skip to the appropriate timestamps as listed below to watch each of these Members of Parliament.
Mr. Tony Clement (Parry Sound — Muskoka, Con): 10:10
Ms. Michelle Rempel (Calgary Nose Hill, Con): 10:30
Hon. Stéphane Dion (Minister of Foreign Affairs, Lib.): 10:40
Mr. Peter Kent (Thornhill, Con): 11:40
Mr. Tom Kmeic (Calgary Shepard, Con): 11:44
Mr. Michael Levitt (York Centre, Lib.): 11:55
Mr. David Lametti (Parliamentary Secretary – International Trade, Lib.): 12:10
Ms. Dianne Watts (South Surrey — White Rock, Con): 12:40
Mr. Garnett Genuis (Sherwood Park — Fort Saskatchewan, Con) 12:43
Ms. Pam Goldsmith-Jones (Parliamentary Secretary – Foreign Affairs, Lib.): 12:54
Mr. Omar Alghabra (Parliamentary Secretary- Foreign Affairs, Lib.): 13:04
Mr. Steven Blaney (Bellechasse — Les Etchemins — Lévis, Con): 13:21
Mr. Scott Reid (Lanark — Frontenac — Kingston, Con): 13:35
Mr. Anthony Housefather (Mount Royal, Lib.): 13:53
Mr. Jason Kenney (Calgary Midnapore, Con): 15:49
Mr. Erin O'Toole (Durham, Con): 16:43
Mr. Kevin Lamoureux (Parliamentary Secretary – Gov. House Leader, Lib.): 17:03
Mr. Sean Casey (Parliamentary Secretary – Justice & Attorney General, Lib.): 18:03
Hon. Judy Sgro (Humber River—Black Creek, Lib.): 18:17
To see a full list of Members of Parliament and how they voted, click Here.
We encourage everyone to write to their Local MP as well as MPs Tony Clement, Michelle Rempel and Prime Minister Justin Trudeau, thanking them for their support.
The time is now right for the House of Commons to take concrete steps and follow the lead of the United Kingdom, which is slated to prohibit all public authorities from imposing a boycotts against any country, including Israel, signed up to the World Trade Organization government procurement agreement.
Unfortunately, some Members of Parliament, including NDP leader Thomas Mulcair and Green Party Leader Elizabeth May, as well as numerous MPs from both the NDP and Bloc Québécois parties, have chosen to stand with a movement steeped in antisemitism.
Full text of the motion:
February 16, 2016 — Mr. Clement (Parry Sound—Muskoka) /Ms. Rempel (Calgary Nose Hill) — That, given Canada and Israel share a long history of friendship as well as economic and diplomatic relations, the House reject the Boycott, Divestment and Sanctions (BDS) movement, which promotes the demonization and delegitimization of the State of Israel, and call upon the government to condemn any and all attempts by Canadian organizations, groups or individuals to promote the BDS movement, both here at home and abroad.