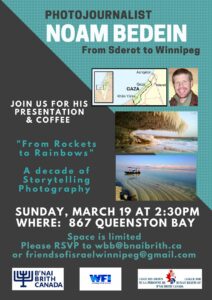 March 15, 2017
By Tevy Pilc
Staff Writer/Researcher
B'nai Brith Canada
B'nai Brith Canada is proud to host photojournalist, lecturer and media advocate Noam Bedein from Israel for a series of presentations on Sunday, March 19, 2017 in the city of Winnipeg.
Bedein will first speak at 2:30pm at 867 Queenston Bay with Winnipeg Friends of Israel and again at 7:00pm with Pastor Raymond McLean at the First Nations Family Worship Centre on 265 Flora Ave.
Bedein is also the director of the Sderot Media Center, a non-profit media advocacy centre "dedicated to bringing the voices of Sderot residents to the forefront of world news." Bedein specializes in highlighting the human drama on the Gaza border while showing the contrast of living in Israel. He'll also be presenting his research about the Dead Sea, climate change, and his decade-long journey of storytelling photography.
Space is limited for the 2:30pm presentation, therefore RSVPing is mandatory.
Prior to the presentations, Beiden visited Norway House Cree Nation and met with Chief Ron Evans, a staunch supporter of Israel. He also spoke and met with local students and community members. We look at the meeting as a wonderful opportunity to further the dialogue between First Nations and Jewish communities.
You can check out some of Bedein's photography here.
nformation on Bedein's event at the First Nations Family Worship Centre can be viewed below.