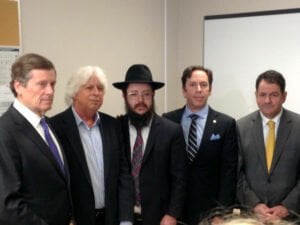 By Tevy Pilc
Staff Writer/Researcher
B'nai Brith Canada
Feb. 22, 2017
B'nai Brith Canada CEO Michael Mostyn spoke at a news conference on Wednesday, Feb, 22, 2017, alongside Toronto police and Mayor John Tory at the Toronto Police Service Division 32 headquarters following incidents of antisemitic vandalism in Toronto, most notably, when post-it notes with antisemitic slurs were discovered on doors at a Toronto condo a few days earlier.
Mezuzahs were also vandalized.
Also speaking at the press conference were Rabbi Moshe Steiner of Uptown Chabad and Toronto City Councillors James Pasternak and John Filion. Both Filion and Pasternak, as well as Mayor Tory, tweeted their support for the Jewish community and for taking a strong and principled stance against antisemitism.
Joined @bnaibrithcanada, @JamesPasternak & @TorontoPolice to speak out against recent hate crimes. Anti-semitism has no place in Toronto. pic.twitter.com/Zz0RswvX1s

— John Tory (@JohnTory) February 22, 2017
Making a strong statement against anti-Semitism and the crimes associated with it. https://t.co/8YietPyNxG

— James Pasternak (@PasternakTO) February 22, 2017
Mostyn's address can be viewed below from CTV Toronto's coverage of the press conference.
Mostyn was also interviewed by CBC News Toronto, where he discussed the recent spate of antisemitic incidents in Canada since the start of 2017.
The full CTV story can be viewed here.