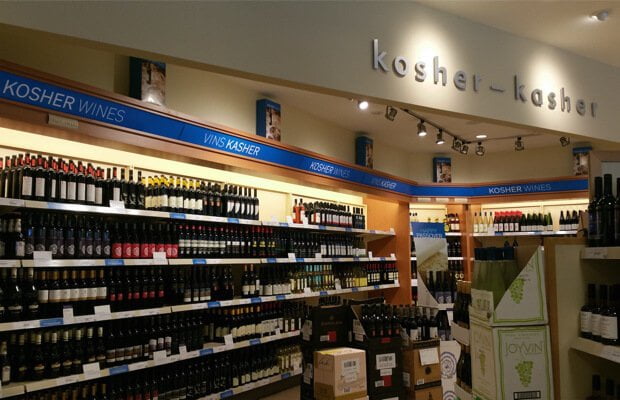 By Marty York
Chief Media Officer
B'nai Brith Canada
July 12, 2017
B'nai Brith Canada is expecting that the Canadian Food Inspection Agency (CFIA) will soon rescind its recent decision to order the removal of certain Israeli wines from store shelves. 
"B'nai Brith has received a lot of information on this matter from multiple sources and officials during the past 24 hours as we were advocating on behalf of the community," said Michael Mostyn, Chief Executive Officer of B'nai Brith Canada. "We can say now that we are expecting this disturbing decision to be corrected in short order."  
According to a letter acquired by B'nai Brith and dated July 11, the Liquor Control Board of Ontario (LCBO) requested that wine vendors "discontinue any importation or sales" of wines marked "Made in Israel" and manufactured east of the Green Line, in light of a CFIA decision defining this as a "misleading" sales practice.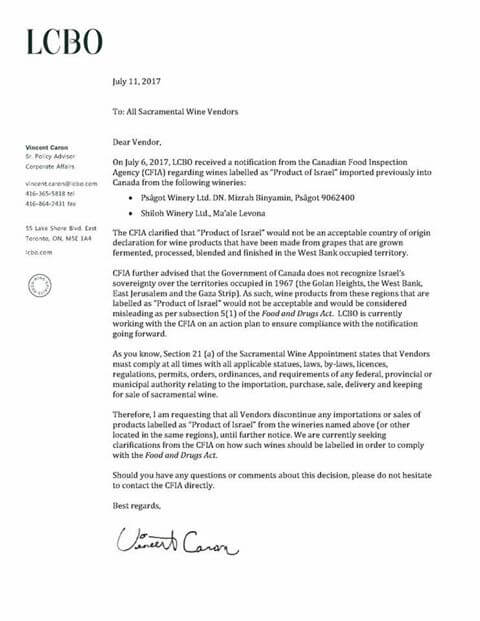 B'nai Brith found during its investigation of the matter that the wines in question, from Shiloh and Psagot wineries, were indeed no longer in stock or in the LCBO system on Wednesday. It appeared as though they were unavailable in other provinces, as well. 
B'nai Brith expects this to change in short order and believes the aforementioned wines will be back on the shelves of Canadian liquor stores. 
"There was a great deal of surprise and confusion surrounding this letter, which is circulating on social media like wildfire," Mostyn said. "From our investigation, it appears safe to conclude that a directive came from the CFIA — but we expect a reversal soon. 
"In the meantime, we call on Canadians from coast to coast to purchase Israeli wine, in order to demonstrate solidarity and friendship with the democratic State of Israel.  Please mention the Shiloh and Psagot wines you would like to see on store shelves to liquor store employees." 
B'nai Brith will continue to advocate with all relevant parties on behalf of the grassroots community on this issue, and will pass on whatever information it can extract as this story develops.