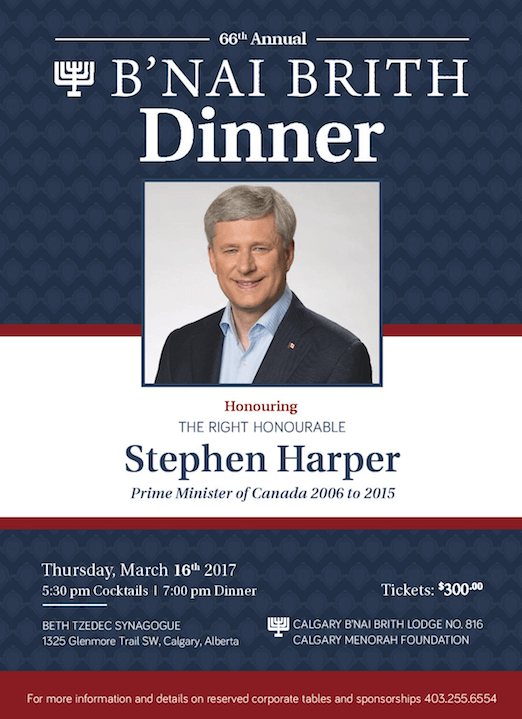 Dear Friends,
We are proud to announce that the Right Honourable Stephen Harper will be our guest of honour at the forthcoming 66th Annual B'nai Brith Calgary Dinner on Thursday, March 16, 2017 at Beth Tzedec Synagogue at 1325 Glenmore Trail SW.
Cocktails will be served at 5:30 p.m., and dinner will begin at 7 p.m. Kashrut observed.
While there is only a very limited number of tickets remaining, sponsorship opportunities for this incredible event are still available! We are expecting a sold-out crowd of approximately 750 people.
A defender of Canadian values and a staunch supporter of the State of Israel, we cannot think of anyone more deserving of recognition than Mr. Harper, who proudly served this country as Prime Minister of Canada from 2006 to 2015.
During his entire political career, Mr. Harper remained a longstanding friend not only to B'nai Brith, but to the entire Jewish community. Time and time again, he demonstrated his unabashed loyalty and support of the State of Israel, the only true democratic country in the Middle East, and stood up to those who promoted racism, antisemitism and bigotry against all Canadians.
For those interested in sponsorship opportunities, please immediately contact Elyse Gruenspan at [email protected] or at 1-844-218-2624. For tickets, call (403) 255-6554.
Looking forward to an unforgettable evening!