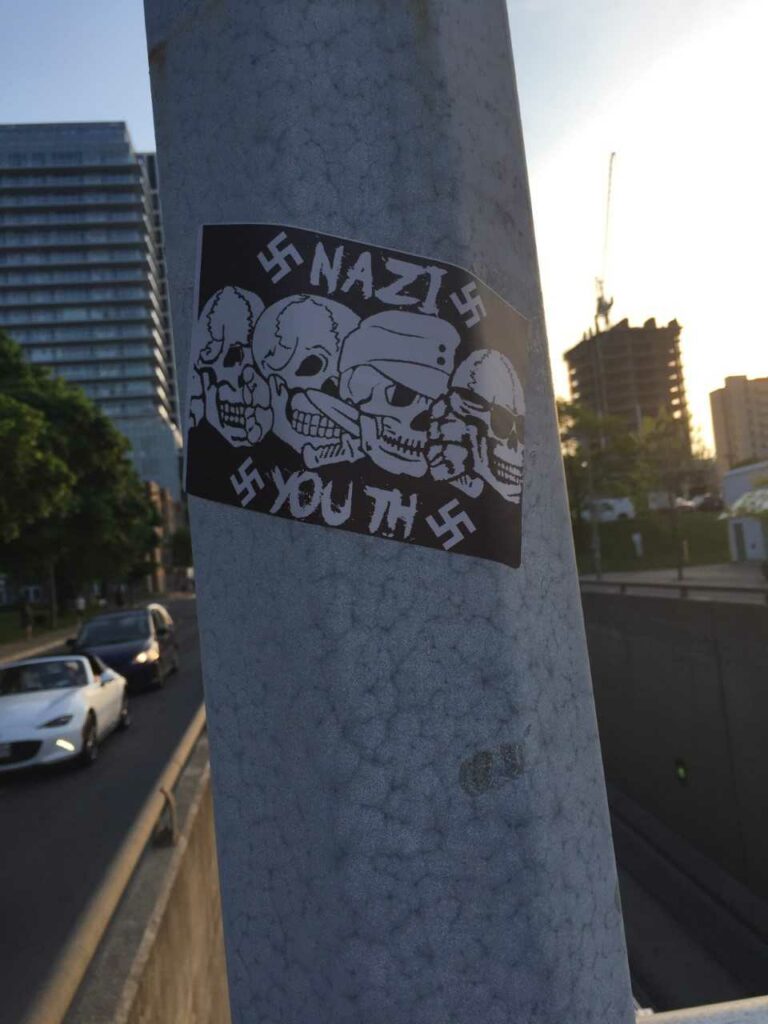 May 28, 2018
By Aidan Fishman
Director of the League for Human Rights
B'nai Brith Canada

TORONTO – B'nai Brith Canada is deeply concerned by the spread of neo-Nazi and antisemitic posters in midtown Toronto over the past week.
On Monday morning, a local resident alerted B'nai Brith to neo-Nazi propaganda posted on public property in Wells Hill Park, located in the Forest Hill neighborhood. The stickers claim that "The Nazi youth are here" and present the Jewish Star of David as a symbol of "degeneracy." Some of the stickers also contain links to neo-Nazi websites.
The owner of Dave's on St. Clair, a local restaurant, told B'nai Brith that a similar poster was placed in the establishment's bathroom on Saturday night. She added that she suspected a group of four men who she did not recognize, and that the restaurant's management and customer base were resolutely opposed to the message behind the poster.
Last week, B'nai Brith received numerous complaints from the nearby Davisville area about posters urging residents to boycott the Aroma coffee chain, which is based in Israel. The anonymous posters also provide false statistics about the Jewish State, and call for a boycott of other Israeli products.
In both cases, local residents have complained to police about the posters.
"The public promotion of antisemitic messages in the heart of this country's biggest city is totally unacceptable," said Michael Mostyn, Chief Executive Officer of B'nai Brith Canada. "These posters are part of a perverse attempt to target Jewish and Israeli Canadians and ostracize them in their own neighborhoods.
"We expect the police to treat this matter with the seriousness that it deserves, and for local residents to reject this antisemitic propaganda."
B'nai Brith's 2017 Audit of Antisemitic Incidents observed that antisemitic vandalism tends to increase during elections, with prominent examples from B.C. and Nova Scotia last year. Ontarians go the polls in a provincial election on June 7.