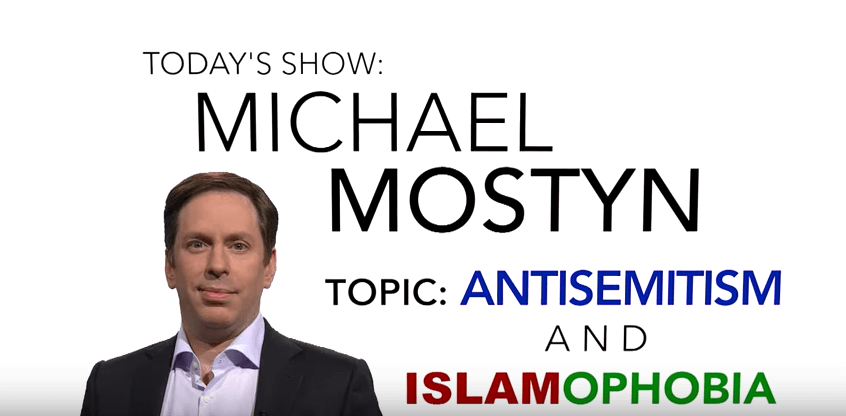 Feb. 27, 2018
By Tevy Pilc
Staff Writer/Researcher
B'nai Brith Canada
TORONTO – Michael Mostyn, Chief Executive Officer of B'nai Brith Canada, appeared as a special guest on the FayteneTV television program earlier this week to discuss racism, antisemitism, and anti-Muslim hatred in Canada.
Hosted by Faytene Grasseschi, a long-time Ontario-based humanitarian and advocacy worker, FayteneTV is a current affairs show that began airing in Canada in 2017. Topics discussed on the program have included freedom of religion and conscience,  immigration, and the legalization of recreational marijuana use.
During the interview, Mostyn and Grasseschi discussed pressing issues such as the current state of antisemitism in Canada, hate crimes targeting members of visible minorities in Canada, and the effects of racism and discrimination in general. Mostyn also detailed B'nai Brith's position on Bill M-103, a parliamentary motion passed earlier this year that "condemns Islamophobia and all forms of systemic racism and religious discrimination," explaining how the term "Islamophobia" in itself is problematic as various groups in Canada define it differently.
I added a video to a @YouTube playlist https://t.co/FGAIcvPOXu Antisemitism, Islamophobia & The Israeli-Palestinian Conflict /

— Faytene Grasseschi (@Faytene) February 26, 2018
In October, both Mostyn and B'nai Brith Senior Legal Counsel David Matas testified before the Standing Committee on Canadian Heritage on the bill, emphasizing that combating anti-Muslim hatred cannot become an excuse to ignore the anti-Jewish hatred promoted by some elements of Canada's Muslim community.
View Mostyn's appearance on FayteneTV below.
If you are interested in booking Mostyn for media appearances or speaking engagements, please contact Marty York at [email protected].