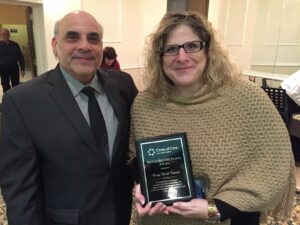 By Tevy Pilc
Staff Writer/Researcher
B'nai Brith Canada
B'nai Brith Canada is honoured to be the recipient of Circle of Care's "People Helping People Award" in recognition of the nearly two-decade long partnership between the two organizations.
The award was presented at Circle of Care's Kosher Meals on Wheels 50th Anniversary and Annual Volunteer Recognition Event at the Pride of Israel Synagogue in Toronto on Nov. 14, 2016. The award is given "in recognition to community members who have demonstrated the highest levels of excellence to the community and Circle of Care."
Circle of Care has been a longtime partner of B'nai Brith's gift basket program, which takes place twice a year.
"It's wonderful to be recognized by your peers for such a vital program that supports the most vulnerable members of the Jewish community," said Elyse Gruenspan, B'nai Brith's Office Administrator, who accepted the award on its behalf.
The Kosher Meals on Wheels program delivers more than 158,000 meals to more than 1,000 clients across Toronto and York Region.
B'nai Brith Canada is incredibly grateful for the honour and hopes to continue its terrific partnership with Circle of Care for years to come.