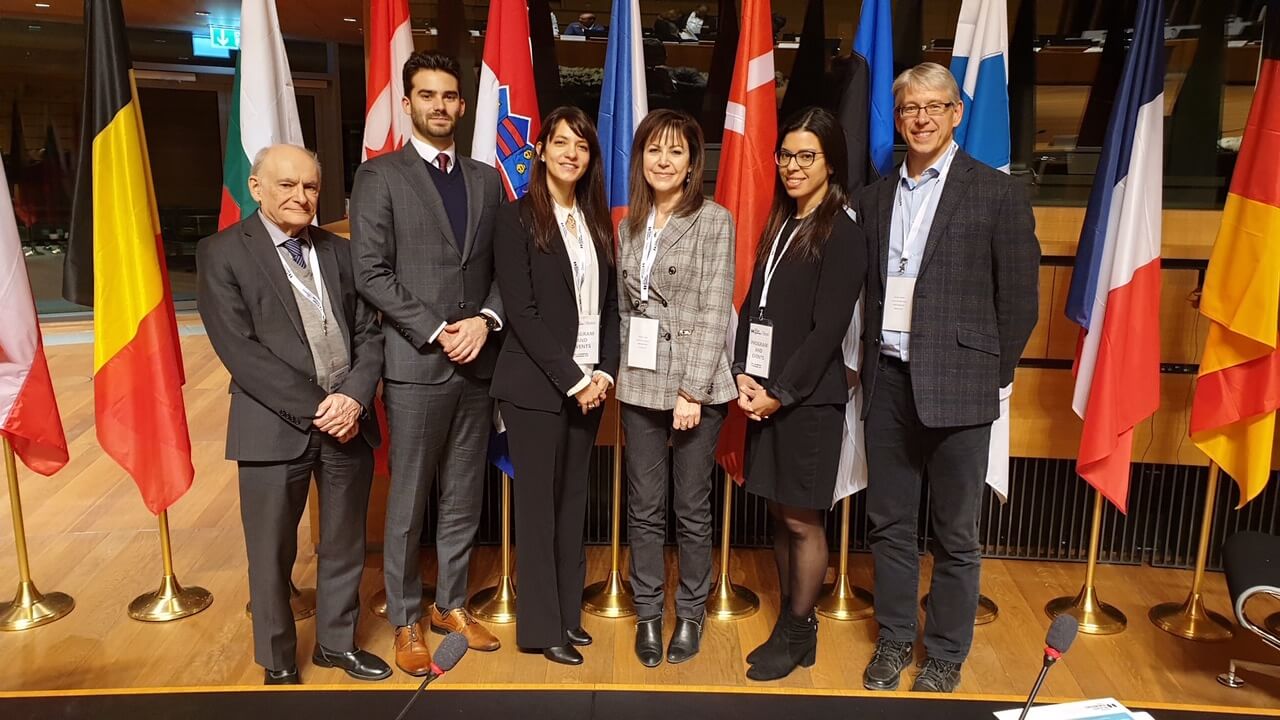 December 5, 2019
B'nai Brith Canada
OTTAWA – B'nai Brith Canada welcomes publication of new education materials by the International Holocaust Remembrance Alliance (IHRA).
IHRA's Recommendations for Teaching and Learning about the Holocaust were published Dec. 4, 2019. In commending IHRA's latest steps to strengthen Holocaust awareness, counter-denial and distortion, B'nai Brith believes IHRA member countries must seize the initiative and take steps to make the new materials more meaningful.
"IHRA members must ensure that the recommendations on teaching and learning are translated into action," said B'nai Brith Canada CEO Michael Mostyn. "We will never forget the tragedy of the past, a fundamental basis for IHRA's work. But a dedication to history, truth and commemoration must help us move forward in a fruitful direction."
"Canada formally adopted the IHRA definition of antisemitism last June, as part of the government's Anti-Racism Strategy," said Brian Herman, B'nai Brith's Director of Government Relations. "We have written the Ministers of Canadian Heritage and Diversity & Inclusion & Youth about the need for a campaign to better educate all Canadians about both the Holocaust and the IHRA definition of antisemitism."
Ran Ukashi, Director of B'nai Brith Canada's League for Human Rights, commended IHRA's latest steps on education, saying: "We must acknowledge the growth of Holocaust denial and distortion, Nazi and neo-Nazi glorification and Holocaust obfuscation — in Canada and elsewhere — and commit to challenging this wherever and whenever it occurs, both inside and outside our countries."
B'nai Brith has recommended to the Prime Minister, the Minister of Foreign Affairs and other Ministers a series of meaningful steps to educate our youth, in particular, on the lessons of the Holocaust and their relevance to today's turbulent times. Teaching about the Holocaust must be placed in a broader context of a strategy to combat antisemitism. Clear strategies are needed.
Working with provincial and territorial authorities, B'nai Brith has been emphatic that the Canadian Government, working with Jewish civil society organizations and recognized Holocaust education institutions, must more diligently work to introduce standardized, mandatory education about the Holocaust, its impact on the world's Jewish community and its relation to modern antisemitism and other forms of racism and xenophobia. This includes taking maximum advantage of IHRA's latest publication.
In Canada, our record on education about the Holocaust and the lessons it holds for today is uneven at best. And teaching about antisemitism is much thinner.  The fact that mandatory classes dealing with these issues – either in their own right or in combination with classes focused on recognized genocides – are often lacking is a glaring omission. B'nai Brith Canada is committed to remedying that.
The Holocaust has become a global reference point for education in areas beyond Jewish, European and world history – for example, in human rights, international law, responsible citizenship, and the role of the state in societies. Our education curricula need to reflect this.
We must not lose sight of the need to educate our political leaders and elected representatives about the Holocaust and the IHRA definition. Countering those who seek to 'nullify' the definition is a must.