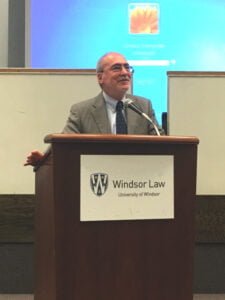 By Daniel Koren
Media Coordinator
B'nai Brith Canada
B'nai Brith Canada welcomed this week Dr. Asher Grunis, President of the Supreme Court of Israel, in Toronto for a national speaking tour to discuss the role the Supreme Court plays in Israeli democracy.
On Tuesday, Dr. Grunis, 71, greeted students at the University of Windsor's Faculty of Law for the first of two speaking engagements organized by B'nai Brith Canada. In Windsor, he explained the nuances and intricacies of Israel's common law system, particularly how it differs from the Canadian legal system. For example, unlike Canada, the Supreme Court of Israel has jurisdiction over judicial review of administrative decisions. Other distinctions include the contrast between the number of cases heard (in 2015, Canada's Supreme Court heard 65 cases while Israel's Supreme Court heard about 3,000) and that there are no juries in Israel.
Dr. Grunis also discredited theories that Israel's Supreme Court is biased against Palestinians. "Palestinians living in Israel have access to the Supreme Court and they can petition just like Israeli citizens, and they exercise this right every day," he said.
Dr. Grunis' tour continued Wednesday at the Holy Blossom Synagogue in Toronto, where he regaled 40 members of the community with examples of the Israeli common law system's "unique features," speaking on the importance of compromise, discussion and egalitarianism within both the Knesset and the Supreme Court. He also placed emphasis on Israel's "excellent relationship with the Canadian judiciary system" before he answered questions from the audience.
On both occasions, Dr. Grunis was introduced by Amanda Hohmann, National Director of B'nai Brith's League for Human Rights.
"It's an honour and privilege to host someone of Dr. Grunis' calibre," Hohmann said. "We can all benefit from the breadth of his knowledge and expertise and appreciate him taking the time to educate us on these matters."
Dr. Grunis continued his speaking tour in Toronto Thursday at the TanenbaumCHAT Wallenberg and TanenbaumCHAT Kimel schools. He will give a lecture at the University of Toronto Friday at an event hosted by Diplomats on Campus.