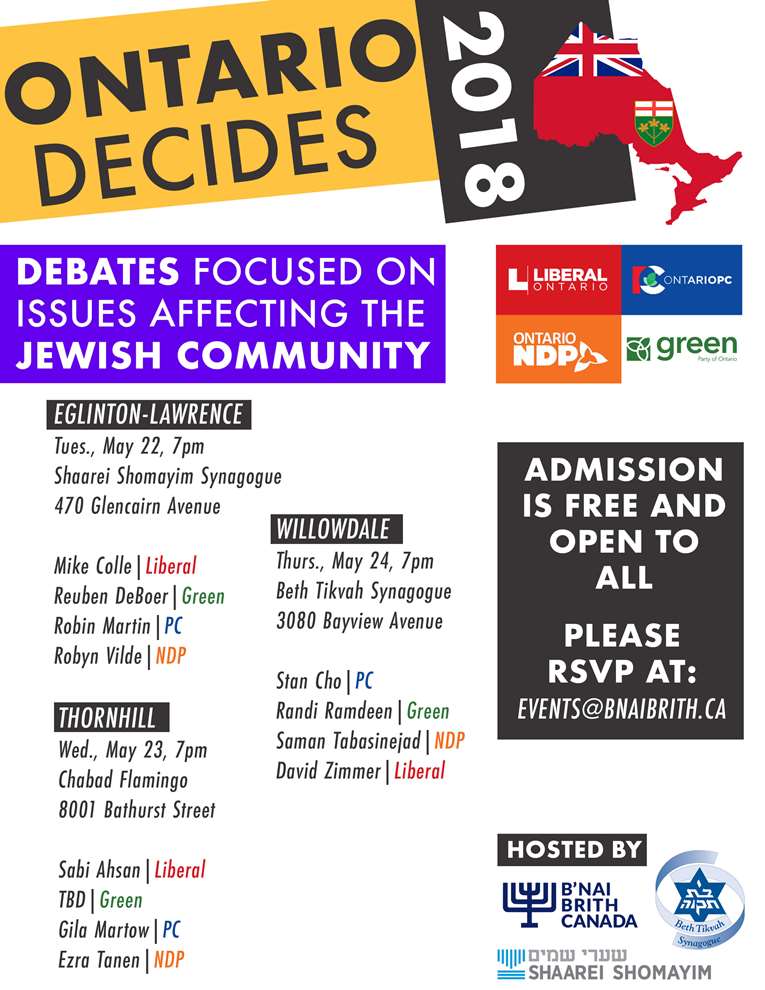 May 7, 2018
TORONTO – B'nai Brith Canada is proud to announce it is hosting local debates at three Toronto-area synagogues in the run-up to Ontario's June 7 provincial election.
Debates will take place at the Shaarei Shomayim Synagogue in Eglinton-Lawrence on May 22, Chabad Flamingo in Thornhill on May 23, and the Beth Tikvah Synagogue in Willowdale on May 24. All major party candidates are expected to attend.
The debates will focus on questions of importance to all Ontarians, along with five key issues relevant to the grassroots Jewish community:
1. Hate Crimes in the Community. B'nai Brith's 2017 Audit of Antisemitic Incidents recorded 1,752 incidents in Canada, including a 107 per cent increase in antisemitic vandalism. Almost half of these incidents occurred in Ontario. How can the Province of Ontario help police and the community keep our homes, schools and places of worship safe?
2. Educational Fairness. The enormous cost of primary and secondary education is one of the heaviest burdens of Jewish life in Ontario. In this province, Jewish schools receive no public support; in Quebec and the Western provinces, the cost of private education is offset in various ways by the government. What can we do locally to improve this situation?
3. Affordable Housing. For many young families, owning a home is increasingly a pipe dream, especially in parts of the Greater Toronto Area. While B'nai Brith has provided affordable housing in the Jewish community since 1979, how can the province further assist in creating more living spaces for all Ontarians?
4. Campus Antisemitism. The bullying and harassment of Jewish students has become an increasingly intolerable scourge at many Ontario universities, making national and even international headlines over the past few years. How can the Province of Ontario, which is ultimately responsible for regulating advanced education, help to solve the problem?
5. Initiatives to Assist People Living with Disabilities. Eddie Rice, Chair of the Disabilities Sub-Committee of B'nai Brith's League for Human Rights, is working to convince all gas stations in Ontario to offer full-service on-demand for handicapped drivers. Will provincial candidates and their parties commit to facilitating this worthy initiative?
Further details on the debates will be released in the upcoming week.
To confirm your attendance, please RSVP to events@bnaibrith.ca.