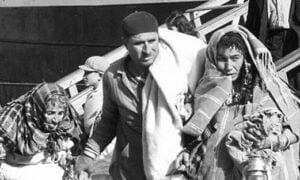 As part of B'nai Brith Canada's week-long series to commemorate the nearly 1-million Jews who fled their homes across Arab countries and Iran, we spoke to Noemi Lieberman, originally from Tripoli, Libya.
In 1947, wearing only the clothes on their backs, she and her family were forced to flee Libya, leaving all their possessions behind. To this day, neither she nor any of her family members have been given reparations of any kind.
Libya's once-thriving Jewish community, which dates back to the third century BCE, once boasted a community of some 60,000 Jews. In 1939, Italy's fascist regime under Benito Mussolini began to pass antisemitic laws in Libya. Jews were fired from their jobs, dismissed from government schools, and had their passports marked with the words "Jewish race." In 1942, over 2,000 Jews were deported and sent to work in labour camps. More than one-fifth of them were murdered.
Following World War II, the situation continued to worsen. In 1945, during a two-day pogrom in Tripolitania, more than 140 Jews were killed and nearly all of the city's synagogues were demolished, as well as hundreds of Jewish homes and businesses. Once emigration to Israel was permitted in 1949, the vast majority of the country's Jews (over 30,000) left Libya. By 1961, a law was passed allowing the government to seize the property and assets of Libyan Jews who had immigrated to Israel.
After the Six-Day War in 1967 between Israel and its neighbours, anti-Jewish riots erupted once again in Libya, leaving 18 dead, and several Jewish homes and shops destroyed. Jewish community leaders urged Libya's ruler King Idris to uproot the country's remaining 6,000 Jews, and he agreed. Within a month, the vast majority of the country's Jews were transferred to Rome, leaving all of their valuables and possessions behind.
The last Jew of Libya, 80-year-old Rina Debach, left the country in 2003.
For Part 1, EGYPT
Part 3, LEBANON
Part 4, IRAQ
Part 5, SYRIA