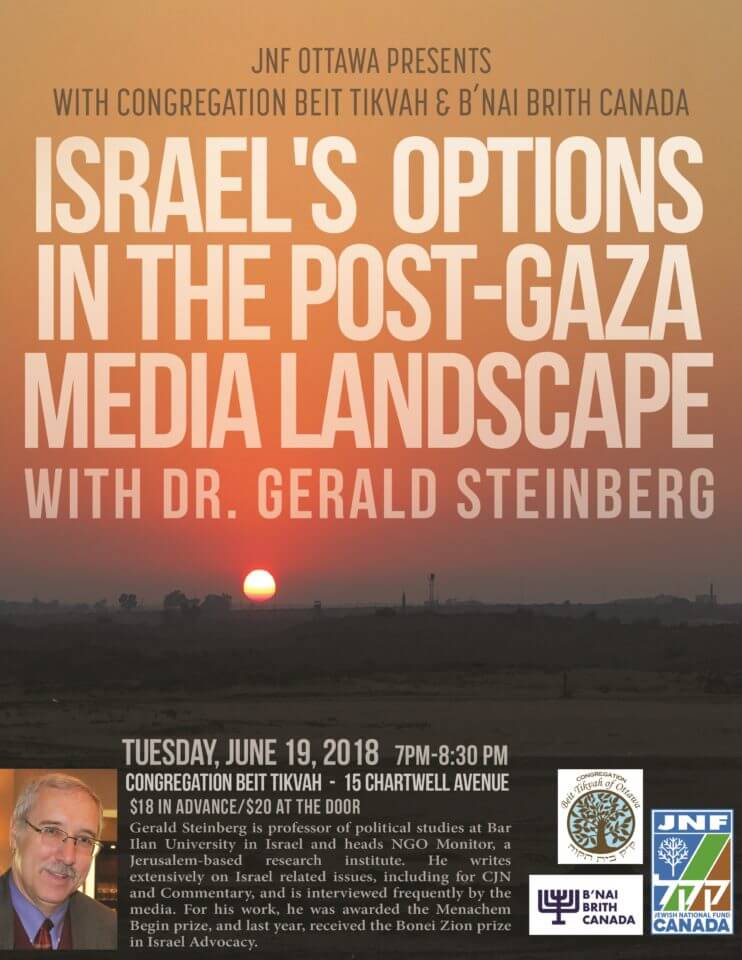 June 14, 2018
By Violet Levin
Government Relations Associate
B'nai Brith Canada
OTTAWA – B'nai Brith Canada is proud to co-sponsor an event alongside the Jewish National Fund (JNF) featuring Bar Ilan University Professor Gerald Steinberg, head of the Jerusalem-based institute NGO Monitor.
The event, titled Israel's Options in the Post-Gaza Media Landscape, will take place on June 19, 2018 at Ottawa's Congregation Beit Tikvah at 15 Chartwell Avenue starting at 7:00 p.m.
Tickets are $18 in advance and $20 at the door.
Steinberg writes extensively on Israel-related issues for a variety of news outlets and is frequently interviewed by members of the media, having appeared on BBC, CNN, MSNBC, Al Jazeera, and others.
NGO Monitor aims "to generate and distribute critical analysis and reports on the output of the international NGO community" and "to publicize distortions of human rights issues in the Arab-Israeli conflict and provide information and context for the benefit of NGOs working in the Middle East."
Steinberg's research focuses on the changing nature of power in international relations, as reflected in Middle East diplomacy and security. For his work, he was awarded the Menachem Begin prize and, last year, received the Bonei Zion prize in Israel advocacy.
Steinberg has served as a consultant to the Israeli Ministry of Foreign Affairs, to the Israeli National Security Council, and as a legislative adviser to Likud Knesset Member Ze'ev Elkin. He is currently a professor of Political Studies at Bar Ilan University in Ramat Gan, where he founded the Program on Conflict Management and Negotiation.
For more information on NGO Monitor, click here.