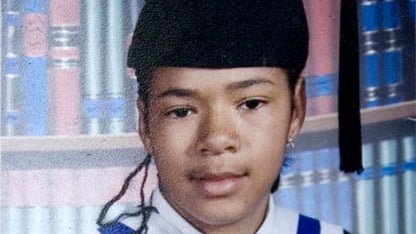 May 23, 2017
TORONTO – On this day 10 years ago, 15-year-old Jordan Manners was murdered in the hallway of C.W. Jefferys Collegiate Institute in Toronto.
He was the first student to be shot to death in a Toronto school.
Immediately following his death, elected officials were urged to review the root causes of youth violence – but to no avail. Finally, a citizens' inquest, led by B'nai Brith Canada's Special Advisory Council to the League for Human Rights, persuaded then Ontario Premier Dalton McGuinty to launch an official review.
To honour and remember Manners, B'nai Brith spoke to philanthropist, human rights activist and Special Advisory Council member Spider Jones about the emboldened response from communities across Ontario who, following Manners' death, launched a campaign to promote equal rights and justice for all.
Jones, who is also well-known as a broadcaster and former boxing champion, noted the importance of B'nai Brith's council – formed in an effort to build stronger bridges and relationships between Canada's various multicultural and religious communities – as a hub for these communities to find solutions to the issues facing their communities.
Given its experience in fighting hate crimes, racism and antisemitism, B'nai Brith was contacted immediately following Manners' death, offering support, resources, and assistance in any way possible.
"Our goal after Manners' death was to locate and solve the issues affecting Canada's diverse communities, and give them a space to voice their concerns," said Dr. Aubrey Zidenberg, Chair of the League's Special Advisory Council since its inception over a decade ago.
The Special Advisory Council, alongside several other groups and organizations, pushed hard for the government to take these issues seriously, and finally saw a response when former Chief Justice Roy McMurtry and former Speaker of the Legislature Alvin Curling were appointed as Youth Commissioners to the Province of Ontario, given the job of creating a report on the roots of youth violence in the province.
Courtney Betty, the attorney who represented Manners' family after his death, was an active member of the Special Advisory Council during that time, calling its efforts a bid to "single out what the problems are and offer solutions" to youth violence.
"The collective efforts of community organizations, our Special Advisory Council, and Canadians across the spectrum lead to more police presence in our schools, and now that we look back at this ten-year period, we hope that it made a positive difference in allowing children to enjoy their education without the continued fears and threats that may have evolved had these communities not taken the steps that they did," Zidenberg said.
"Because we, sadly, have so much experience when it comes to hatred, so many different communities continue to look to B'nai Brith to help them navigate through these troubled waters, and we stand shoulder to shoulder with each and every one of them. Whenever there is an attack or an incident of any kind, it affects us all equally."
"The Special Advisory Council is an example of how Canada's diverse, multicultural communities can learn and benefit from one another," said Michael Mostyn, Chief Executive Officer of B'nai Brith Canada. "B'nai Brith is proud to have been able to take a leadership role and create a positive change in the wake of such a senseless tragedy."
B'nai Brith remains active in our fight against violence, racism, and all forms of discrimination, particularly in our schools, so that Jordan Manners' death was not in vain.