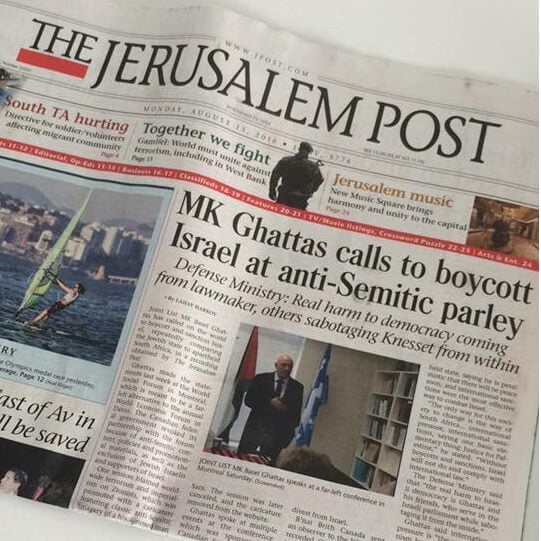 By Aidan Fishman
Campus Advocacy Coordinator
B'nai Brith Canada
 Members of Knesset from at least three Israeli political parties are suggesting that an Israeli-Arab parliamentarian should be expelled because of his anti-Israel and antisemitic activities in Canada, The Jerusalem Post is reporting.
Observers from B'nai Brith Canada attended and recorded a speech made by Dr. Basel Ghattas, the MK who is engulfed in this controversy, at Montreal's World Social Forum last week. Ghattas also has spoken in Ottawa and was scheduled to appear Tuesday in London, Ont., and in Toronto Thursday.
"A member of parliament calling Israel racist and calling upon countries to boycott and sanction it is an unheard of act in any sane country in the world. It is not only delusional, it is against the law," said Yisrael Beytenu's Oded Forer. "The theater of the absurd in the Knesset continues and the Joint List [Ghattas' party] continues to prove that its MKs do not belong in the Knesset."
Michael Oren, former Israeli Ambassador to the United States and current Deputy Minister for Diplomacy, said: "An MK calling for the destruction of the country he represents cannot sit in the legislature of that country. Imagine a member of Congress calling for the destruction of the US. That is essentially what Ghattas did."
Canadian-born Sharren Haskel, Member of Knesset for the Likud, argued that Ghattas was abusing his privileges as an Israeli parliamentarian in order to undermine Israel's democracy and ultimately promote its destruction as a state.