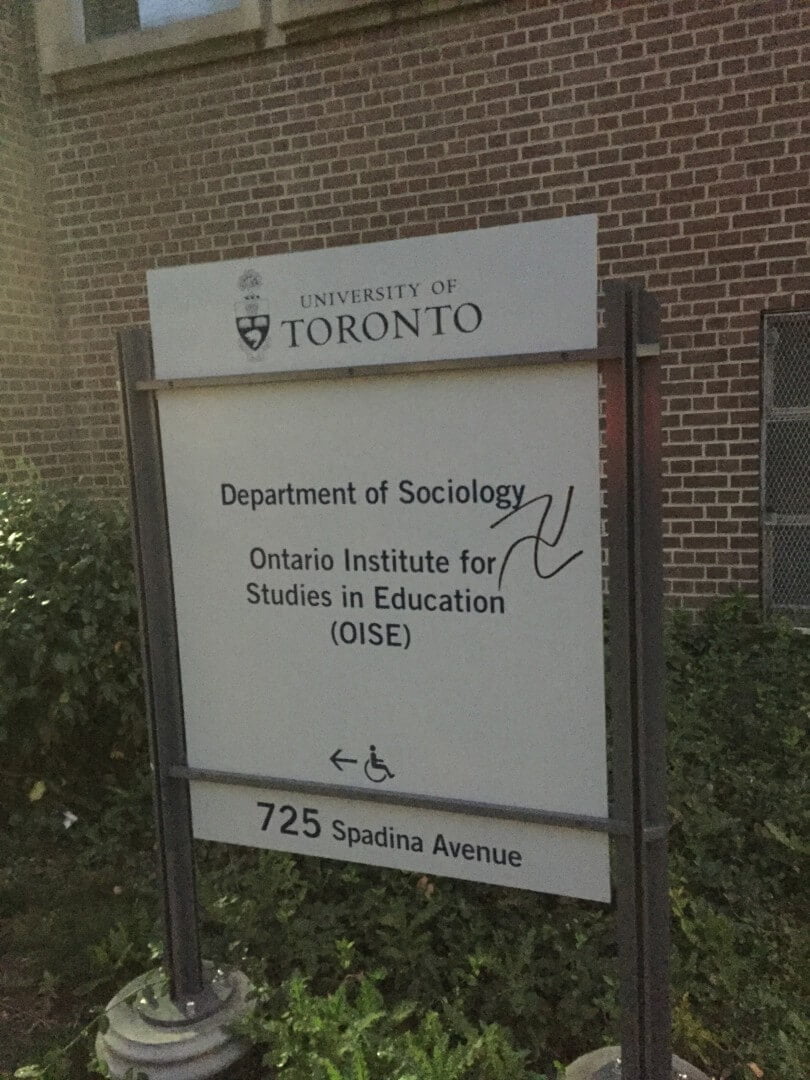 B'nai Brith Canada is concerned about antisemitic graffiti at the University of Toronto after a spate of swastikas defacing university property was discovered on its St. George and Mississauga campuses.
However, in response, the University of Toronto Students' Union (UTSU) released a statement condemning the acts of vandalism, which B'nai Brith spokesperson Amanda Hohmann, National Director of its League for Human Rights, thought was a positive step.
"The UTSU is setting a great example for student unions at other universities such as York and McGill, which have been far less vocal in denouncing accusations of antisemitism on campus," said Hohmann. "We hope that the University of Toronto and local police will diligently investigate this matter, so that all students can feel safe and secure on campus."
The vandalism was discovered Friday on a public sign of the university's Medical Sciences Building in the heart of its downtown campus. University spokesperson Althea Blackburn-Evans confirmed that the swastika had been removed following a complaint from Hillel Ontario.
Swastikas were also later found on a nearby bus shelter and on the public sign for the university's Department of Sociology. It was not immediately clear whether the three incidents were linked.
"The swastika is a symbol of antisemitic hatred, and this kind of vandalism has no place on our campus," the UTSU said in its official statement (page doesn't exist).  "The UTSU condemns Nazism and antisemitism. Antisemitic violence, along with all other forms oppression, must be resisted and dismantled. We stand in solidarity with Jewish students, who, like all students, have a right to feel safe on campus. We, as a community, cannot allow that right to be undermined by expressions of hatred. Such acts cannot go unchallenged."
In May, B'nai Brith Canada exposed a speech delivered at the university by Holocaust denier and conspiracy theorist Ken O'Keefe, prompting the administration to issue a statement condemning antisemitism.
Last year, the UTSU Board of Directors twice voted against endorsing the anti-Israel boycott, divestment and sanctions movement (BDS).
If you've witnessed or been the victim of racism, antisemitism, or discrimination, call our 24/7 Anti-Hate Hotline at 1-800-892-2624.