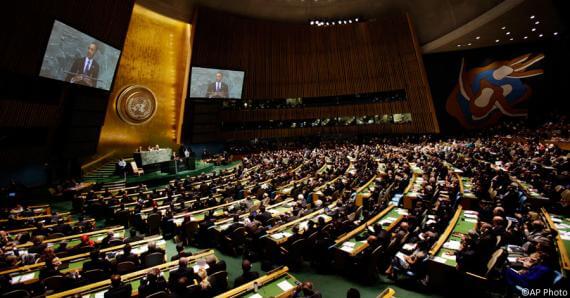 B'nai B'rith Canada condemns the United Nations General Assembly for a series of annual resolutions singling out Israel for condemnation and utterly disregarding Arabs' fuelling of a continued conflict in the Middle East.
One resolution calls for Israeli relinquishment of the strategically vital Golan Heights to Syria at a time when that country is the site of unimaginable bloodletting between the regime of Bashar al-Assad, Hezbollah and other groups including ISIS. Another resolution continues to whitewash the Jewish identity of Jerusalem, effectively rebranding the Temple Mount, Judaism's single holiest site, as purely an Islamic site.
The majority of European democracies that voted in favour of such historical revisionism—even Germany and the United Kingdom, which recently voted "no" on similar language at UNESCO; France, which recently abstained there; and Italy, which pledged to vote "no" moving forward—deserve special censure for this shameful and irresponsible act.
At the same time, B'nai B'rith commends Canada, the United States, Micronesia, the Marshall Islands and Palau for joining with Israel in voting against all six of today's distorted resolutions. Australia also voted against several of the resolutions. Cameroon, Honduras, Vanuatu and Tonga abstained on all or most of the motions.
The UN shows no self-awareness in demonstrating its relentless bias towards Israel — a country that stands out in the Middle East with its democracy, diversity and commitment to coexistence. B'nai B'rith stands with Israel, and we will continue to combat the anti-Israel and even anti-Semitic prejudice on display at the UN.
During the proceedings, General Assembly President Peter Thomson chose to wear a scarf marked "Palestine" with a kaffiyeh and Palestinian flag design. Thomson has showed no comparable solidarity—this week or otherwise—with all the Israeli victims of extremist Palestinian rejectionism and ongoing terror.
The UN's "International Day of Solidarity with the Palestinians"—redundant, as so much of the UN system is hijacked year-round for that purpose—remains a tragic irony, as it falls on the anniversary of the day in 1947 when the body endorsed the establishment of neighbouring Jewish and Arab states in the Middle East, a vision rejected by key Palestinian leaders both then and today.
"These measures adopted today are just part of the singular group of ritualistic resolutions targeting Israel but not its violent adversaries each year. These resolutions squander badly needed millions of dollars of global taxpayer resources to perpetuate a one-sided, defamatory narrative of the conflict, rather than helping to actually end it," B'nai B'rith International CEO Daniel S. Mariaschin said.