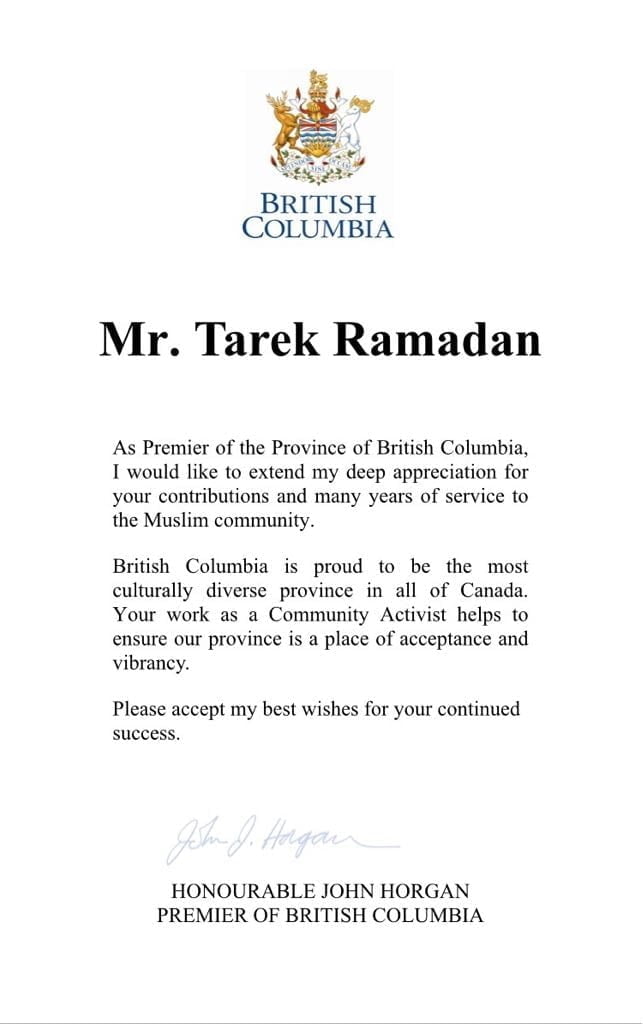 May 16, 2018
By Aidan Fishman
Director, The League for Human Rights
B'nai Brith Canada
VANCOUVER – The office of B.C. Premier John Horgan is standing by its praise of a Vancouver imam who slammed "malevolent Jews" and "criminal Zionists" in a public prayer session and urged congregants to send weapons to Palestinians.
Tarek Ramadan, of the Kingsway Mosque, made the comments during a July 2017 rally outside the Vancouver Art Gallery. The Muslim Association of Canada, which administers the mosque, described ( page does not exist) his remarks as "inappropriate" and stated that Ramadan would be suspended from delivering sermons pending an internal investigation.
Nevertheless, in a letter shared on Facebook by Ramadan himself on April 20, 2018, Horgan lauded Ramadan's "work as a community activist," striving to "ensure our province is a place of acceptance and vibrancy," and extended his "best wishes for [his] continued success." In a comment posted below the letter, Ramadan portrays the Premier's letter as a vindication of his harsh rhetoric, stating that "[G-d] is exalted, and He harnesses His servants as He wishes to defend me and bear witness for me."
A spokesperson for the Premier's Office confirmed in an interview with B'nai Brith Canada that the letter was genuine and thanked B'nai Brith for bringing the letter to the attention of the Premier's Office.
"By lauding Tarek Ramadan, the Premier's Office is allowing this letter to be misused as a green light to incitement and support for violence," said Michael Mostyn, Chief Executive Officer of B'nai Brith Canada. "How can it be that Ramadan's own community understands that his rhetoric is unacceptable, while the Premier apparently does not?
"We assume that this was an administrative error, and that the Premier would never intentionally praise someone with Ramadan's track record. But the Premier must make a point of coming out publicly and clarifying this fact. Failure to do so is irresponsible and incomprehensible."