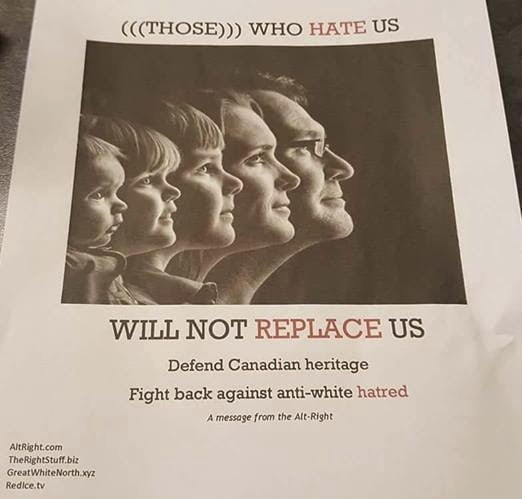 By Aidan Fishman
Interim National Director of the League for Human Rights
B'nai Brith Canada
Nov. 2, 2017
VICTORIA, B.C. – Students at the University of Victoria arrived on campus last week to find posters promoting antisemitism and white supremacy scattered around the area.
The posters proclaimed that "(((Those))) who hate us will not replace us," and provided links to white supremacist websites. The triple parentheses are frequently used by online neo-Nazis to identify Jews, while the slogan itself is reminiscent of white supremacists who chanted, "Jews will not replace us!" during their infamous torchlight rally in Charlottesville, Va.
The posters were first exposed (page doesn`t exist anymore) online by a group called Anti-Racist Action Uvic.
B'nai Brith Canada is in contact with university officials regarding the situation.
"This brazen outburst of far-right antisemitism at a Canadian university is a serious concern," said Michael Mostyn, Chief Executive Officer of B'nai Brith Canada. "It is imperative that university officials do whatever they can to identify and discipline the culprits."
In the aftermath of August's far-right gathering in Charlottesville, where one protester was killed, antisemitic posters targeting Jews have appeared at American universities such as Cornell and the University of Houston, but this may be the first occurrence north of the border.
In February, posters promoting Holocaust denial 
blanketed
the University of Calgary before being removed by local officials.