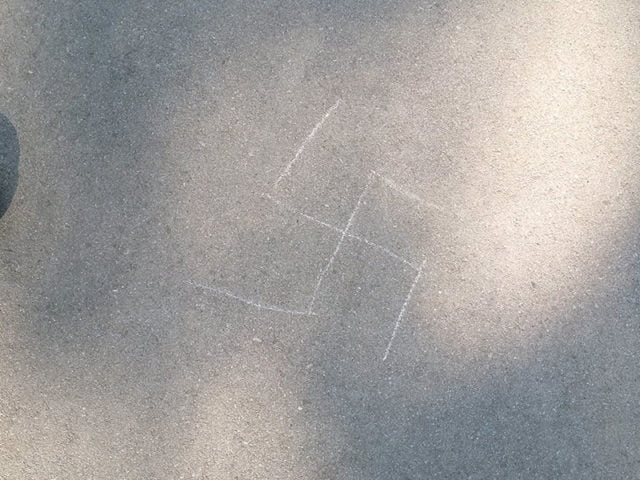 June 16, 2017
By Tevy Pilc
Staff Writer/Researcher
B'nai Brith Canada
TORONTO – May and June of 2017 have yielded an uptick in antisemitic incidents in the Greater Toronto Area, including three separate incidents near a Jewish elementary school.
B'nai Brith Canada, which actively assists victims of antisemitic incidents, has discovered that the following incidents have occurred in the past two months alone:
On May 15, a letter was sent to parents from the Eitz Chaim School's Patricia Ave. campus notifying them that, "During a lunch recess, a group of people walking past the school threw rocks in the direction of some of our middle school students who were playing on the west side play area." This was accompanied by the discovery of swastikas found scratched into the asphalt of the same play area, which school officials believe to have happened after school hours.
Another swastika was found scratched on the asphalt in the play area on the morning of Sunday June 11, 2017. (See text of the letter below).
According to a community member, Eitz Chaim students were harassed with antisemitic slurs shortly after leaving the school on June 15. One student had his kippah snatched by one of the perpetrators.
A man allegedly entered the Morris and Sally Justein Heritage Museum at the Baycrest Health Sciences hospital, vandalized two photographs from a wall display and left what police call a "derogatory" message in the comment book.
A teacher in York Region received death threats at home and at school, specifically referencing that it was because he was Jewish and 'corrupting children.'
A teenager walking home in Toronto was harassed, threatened and cursed at by a man yelling profanities and antisemitic slurs.
A Toronto Judaica store received antisemitic and threatening phone calls.
A student's locker was vandalized with swastikas at a Toronto high school.
A man in Thornhill had his home broken into and was left with a swastika painted on his fence.
B'nai Brith Canada has been in communication with Eitz Chaim and has offered its assistance and resources to help prevent future incidents.
"Given the record high number of incidents documented in our 2016 Annual Audit of Antisemitic Incidents, the continuation of this trend is very alarming," said Michael Mostyn, B'nai Brith Canada's Chief Executive Officer. "It is imperative that our government, law enforcement and judiciary system treat these incidents with the seriousness they deserve and act swiftly to combat the rising tide of antisemitism in Canada."
To address these matters, Toronto Mayor John Tory held a private meeting with Jewish leaders Friday at the Adath Israel synagogue – which B'nai Brith attended – to discuss community patrol and security productivity strategies.