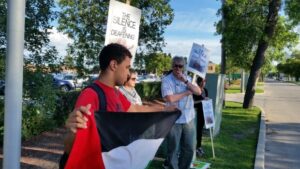 About a dozen people protested Tuesday outside the Israel Pavilion at Shalom Square, targeting crowds attending Folklorama, Winnipeg's annual celebration of multiculturalism.
This is the third year in a row in which demonstrators protested outside the Asper Jewish Community Campus, Winnipeg's main Jewish hub, at Folklorama. This comes in a city where public antisemitism and anti-Israel activity is generally far rarer than in other Canadian cities such as Toronto and Montreal.
Folklorama maintains a diverse roster of 45 pavilions, representing Winnipeg's various ethnic communities, including those hailing from countries whose governments have sometimes courted controversy, such as Cuba, Russia and South Sudan.
Nevertheless, protests have never taken place outside any Folklorama pavilion aside from that of Israel. Indeed, Folklorama rules specifically prohibit the airing of political grievances during the festival. The annual protests outside the Israel Pavilion can therefore be seen as part and parcel of the international campaign to isolate and apply double-standards to Israel, undermining the position of the Jewish People among the global family of nations.
A CBC News video of the protest can be view here.