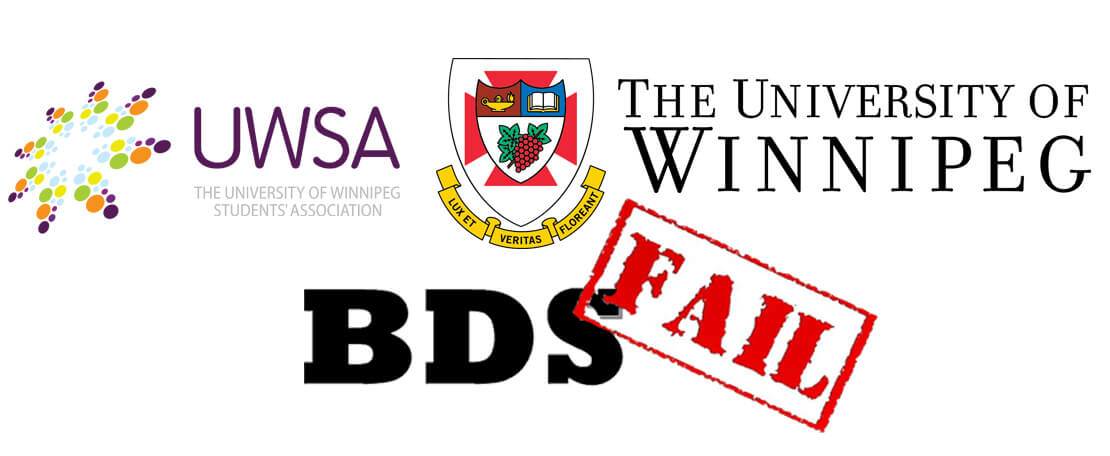 Oct, 25, 2017
By Aidan Fishman
Interim National Director of The League for Human Rights
B'nai Brith Canada
WINNIPEG – The anti-Israel boycott, divestment and sanctions (BDS) movement appears to have entered a death spiral on Canadian campuses. The latest victory for the pro-Israel camp came today, as students at the University of Winnipeg voted to reject a motion in support of it.
Today's result was the second defeat for BDS on that campus in the last six months. In March, an identical motion was not adopted at a general meeting of the University of Winnipeg Students' Association.
Over the past two years, BDS votes have also failed at the University of Toronto (twice), the University of Waterloo, McGill University, the University of British Columbia (page doesn't exist), and Simon Fraser University.
"That is now eight consecutive defeats for this discriminatory campaign, demonstrating yet again that students see BDS precisely for what it is: a hateful and unjust movement against indigenous Jewish self-determination on their ancestral homeland," said Ran Ukashi, Manitoba Regional Director for B'nai Brith Canada. "Students from coast to coast have spoken up loud and clear: enough is enough for this hateful campaign."
B'nai Brith has repeatedly highlighted blatant incidents of campus antisemitism associated with the BDS movement and some of its adherents.
In November of 2016, anti-Israel students at Ryerson University in Toronto staged a walk-out at a meeting in order to prevent their student union from adopting Holocaust Education Week. In February, B'nai Brith exposed a McGill student politician who called on his followers to "punch a Zionist today," leading him to lose his positions in student government.
On Sunday, in the run-up to the Winnipeg BDS vote, B'nai Brith hosted a screening of Wish You Weren't Here, a documentary that critically examines the anti-Israel campaign and one of its chief supporters, former Pink Floyd frontman Roger Waters. A final screening will take place in Vancouver on Oct. 29.