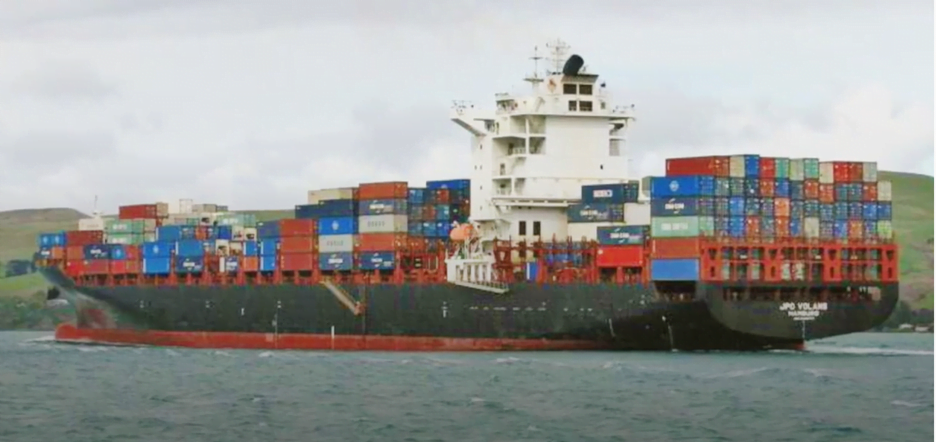 June 17, 2021
PRINCE RUPERT, B.C. – A vessel owned by an Israel-based company managed to unload its cargo at a northern British Columbia port last night, following an ultimately unsuccessful blockade effort by anti-Israel extremists.
The ship in question is the Volans, a Liberian-flagged container ship carrying cargo for ZIM, a Haifa-based shipping company that played a key role in the establishment of modern Israel and is now publicly traded around the world. On Wednesday, it delivered cargo to the port of Prince Rupert despite the presence of anti-Israel protesters, who had disrupted port activity on the previous day by setting up a picket outside its gates.
B'nai Brith had contacted the Prince Rupert Port Authority late on Tuesday to stress the importance of keeping the port open to Israeli shipping. The Volans is now crossing the Pacific Ocean en route to Shanghai."
The Volans reached Prince Rupert after encountering previous difficulties unloading its cargo in Oakland, California, also due to anti-Israel protests. By contrast, Canada's port of Vancouver processed cargo from the Northern Julie, another ZIM-registered vessel, without disruption last week.
As part of their blockade campaign, anti-Israel activists have repeatedly spread lies and disinformation, falsely claiming that they had managed to block the Northern Julie in Vancouver and insinuating, with no evidence whatsoever, that the ZIM ships in question are carrying weapons.
"These attempts to block Israeli shipping to Canada are deplorable and fortunately, so far unsuccessful," said Michael Mostyn, Chief Executive Officer of B'nai Brith Canada. "In a clear case of antisemitism, extremists in various Western countries are targeting these vessels solely because they are linked to the Jewish State.
"Law enforcement and officials at all levels of government have an ongoing responsibility to ensure that Canada's ports are not crippled by antisemitic boycotts."
Despite earning the ire of the antisemitic Boycott, Divestment and Sanctions (BDS) Movement, ZIM reported its largest ever annual profit in 2020, a total of $524 million USD.
In Ontario and Manitoba, provincial legislation specifically prohibits complying with boycotts based on nationality. At the federal level, Canada's House of Commons overwhelmingly voted to condemn the BDS Movement in 2016.