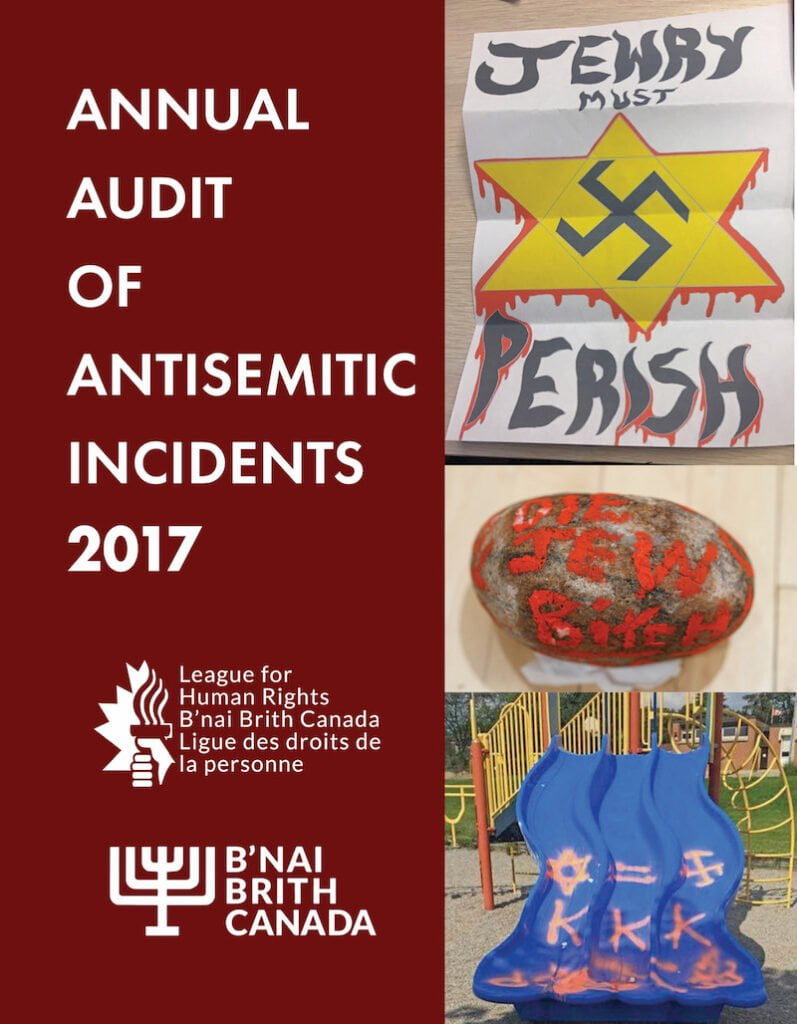 April 24, 2018
By Daniel Koren
Media Coordinator
B'nai Brith Canada
The year 2017 set records for antisemitism in Canada.
B'nai Brith Canada's Annual Audit of Antisemitic Incidents reports that 2017 was the second consecutive year in which record numbers were reached. The authoritative study on antisemitism in Canada, the Audit recorded 1,752 incidents, a 1.4 per cent overall increase nationally compared to 2016.
It was in antisemitic vandalism, however, where there was a whopping national increase of 107 per cent, reaching levels unseen in Canada since 2013. Homes, schools, parks and highways were defaced by Nazi graffiti and antisemitic epithets, including swastikas and hate signs suggesting "Hitler Was Right," "Jewry Must Perish," and "Die Jew Bitch."
Other disturbing antisemitic trends included the rise of antisemitism from both the far-right and the far-left of the political spectrum, politicians seeking support from those with anti-Jewish prejudice and a lack of criminal charges for faith leaders caught praying for the death of Jews.
"Antisemitism has grown as a serious concern for Canadian Jews, affecting them at school, in the workplace and even in their own places of worship," said Michael Mostyn, Chief Executive Officer of B'nai Brith Canada. "This problem will not solve itself – we need a concerted national effort to ensure that antisemitic outbreaks do not become a fact of life for Jews in this country, as in other developed countries such as France and Sweden."
The vast majority of incidents, with a collective total of 73 per cent, were in Ontario and Quebec, home to Canada's largest Jewish communities. The Audit also notes a significant proportional increase in antisemitism in the provinces of Alberta and British Columbia.
To combat this wave of anti-Jewish hatred, B'nai Brith is proposing an Eight-Point Plan to Tackle Antisemitism, including increased resources for police hate crime units, a no-tolerance approach to public funding of anti-Jewish events, provincial government action against antisemitism on campus and the adoption of a National Action Plan for antisemitism.
Now in its 36th year, the Audit of Antisemitic Incidents, which tracks and monitors trends in antisemitic hatred, is the authoritative document on anti-Jewish bigotry in Canada, cited regularly by law enforcement agencies, government bodies and human rights agencies around the world.
To download a PDF version of the Audit, click here.