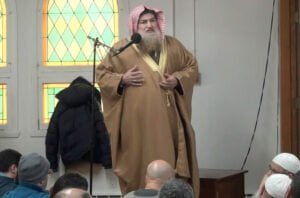 By Aidan Fishman
Campus Advocacy Coordinator
B'nai Brith Canada
March 21, 2017
MONTREAL – B'nai Brith Canada has reported an incident involving yet another Montreal imam to the Hate Crimes Unit of the Montreal Police Service. As CIJNews reports, the imam was recorded delivering an antisemitic sermon and inciting violence against Jewish people.
In a speech delivered on Dec. 23, 2016 at the Dar al-Arkam mosque, Muhammad bin Musa al Nasr describes Jews as "the most evil of mankind" and as "human demons," before quoting from the hadith: at "the end of time… the stone and the tree will say: 'Oh Muslim, oh servant of Allah, there is a Jew behind me – come and kill him!'"
In February, an imam at a different Montreal mosque was discovered to have promoted violence against the Jewish community during sermons  he delivered. Montreal Police are still investigating the incident, and have yet to lay charges.
"It's been 42 days since we filed a complaint about the last imam to promote such hatred, and Montreal police are still deciding whether calling on Allah to 'destroy the accursed Jews' is hate speech," said Michael Mostyn, Chief Executive Officer of B'nai Brith Canada. "When will Canada finally recognize that we are not immune to racism and antisemitism, and that it is this type of rhetoric that directly leads to radicalization all over the world?"
Mostyn added: "On Monday, Toronto Police reported that, yet again, Jews are the leading victims of hate crimes in the city. What will it take before charges are laid for criminal incitement in Canada?"
Al Nasr, who was born in Nablus, is a prominent member of the hardline Salafist movement in Jordan, where he lectures at the al-Ahliyya University in Amman. Rather than condemn Al Nasr's remarks, the Dar al-Arkam mosque allowed him to deliver more than a dozen additional sermons, and uploaded those to its YouTube account as well.