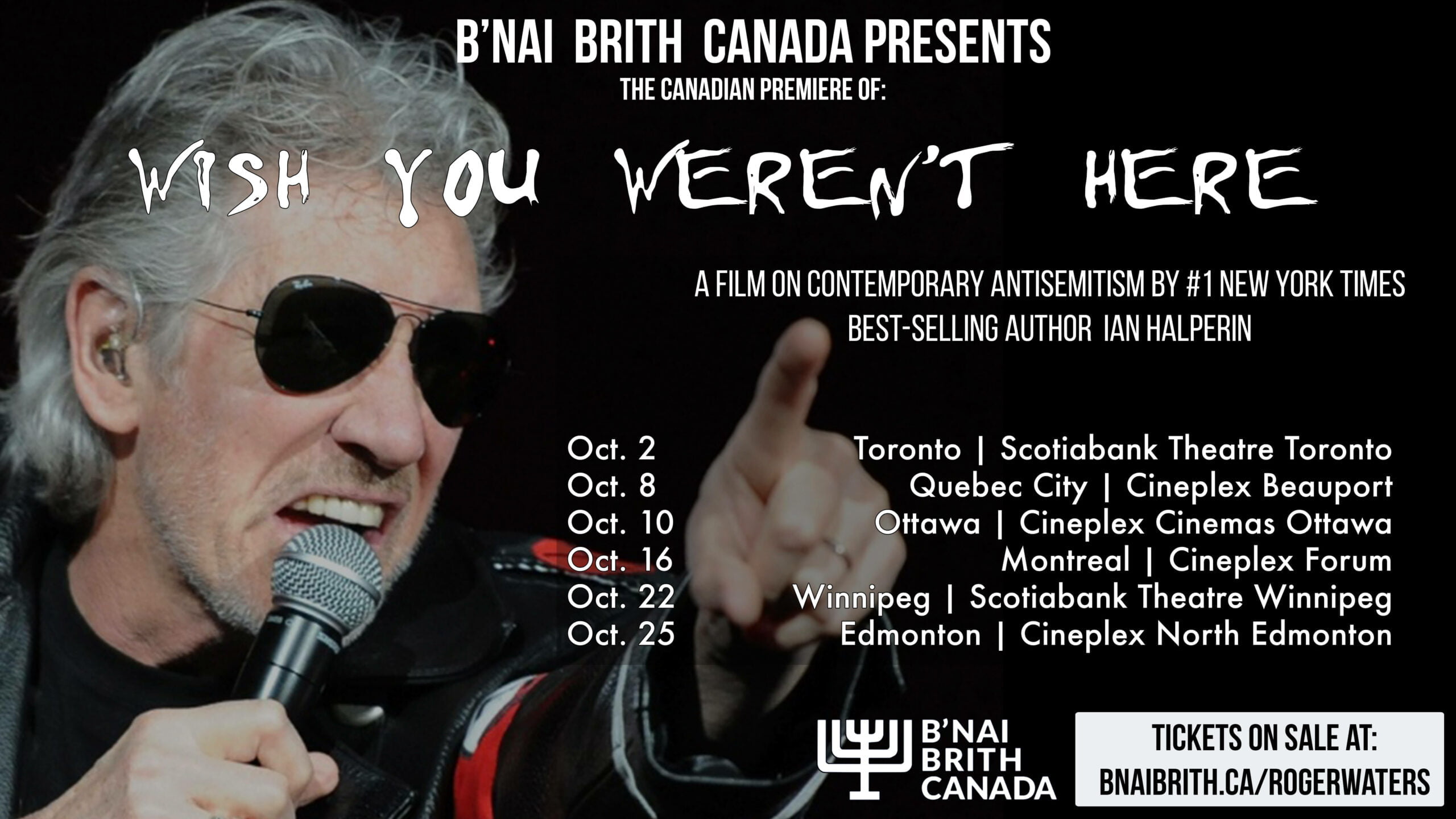 By Daniel Koren
Media Coordinator
B'nai Brith Canada
Sept. 7, 2017
With Roger Waters' Canadian tour quickly approaching, and in a bid to refute his misguided and inflammatory views on the State of Israel, B'nai Brith Canada is proud to team up with #1 New York Times bestselling author and award-winning filmmaker Ian Halperin (Who Killed Kurt Cobain?, Unmasked: The Final Years of Michael Jackson) to present screenings of his latest film, Wish You Weren't Here.
The film, which explores contemporary antisemitism in our society, offers a balanced perspective on how support for the boycott, divestment and sanctions (BDS) movement directly contributes to instances of antisemitism on campus, social media, and in the public sphere. It includes interviews and never-before-seen footage with the world's leading experts on racism and discrimination, including Pope Francis, World Jewish Congress President Ronald Lauder, American lawyer and author Alan Dershowitz and B'nai Brith Canada CEO Michael Mostyn.
The Wish You Weren't Here Canadian Tour will include screenings in Edmonton, Montreal, Ottawa, Quebec City, Toronto, and Winnipeg, and will take place on the same nights Waters is performing in those respective cities. The film is a counter protest to Waters' Us + Them tour, where he's already engaged in lengthy anti-Israel tirades on stage.
As a human rights organization committed to fighting antisemitism, B'nai Brith believes Wish You Weren't Here is an enlightening and compelling cinematographic experience that succinctly details why BDS is an inherently antisemitic movement.
To purchase tickets, click here.
"Whether or not he views himself as an antisemite, Roger Waters is using his platform as a musician to promote a completely false and antisemitic narrative," said Mostyn. "This narrative ignores history, genealogy, archaeology, and anthropology and leads to real-world consequences for members of the Jewish community who get targeted by fanatics caught up in its hateful ideology."
In select cities, the screenings will also feature a Q&A period with Halperin himself, as well as Mostyn, Dr. Charles Small, Director and President of the Institute for the Study of Global Antisemitism and Policy (ISGAP), and other notable speakers who have condemned Waters' rhetoric.
Waters is viewed as a champion of the BDS movement and often attempts to pressure famous musicians (most recently the band Radiohead) not to play Israel. Despite pleas from human rights groups around the world, he continues to engage in antisemitism by comparing the Israeli government to Nazi Germany, labelling Israel as the worst human rights abuser in the world, and promoting outright lies about the State of Israel.
"When you're only targeting Israel for delegitimization and demonization and with a double standard, that's antisemitism, and that's what Roger Waters is guilty of," Mostyn said. "By promoting this film, B'nai Brith hopes to raise awareness of his extremely misguided and dangerous views, and highlight the truth surrounding Waters' activism: that it's biased, unfactual, and lends credence to the movement that seeks Israel's destruction."
Watch the trailer for the Canadian premiere of Wish You Weren't Here below: