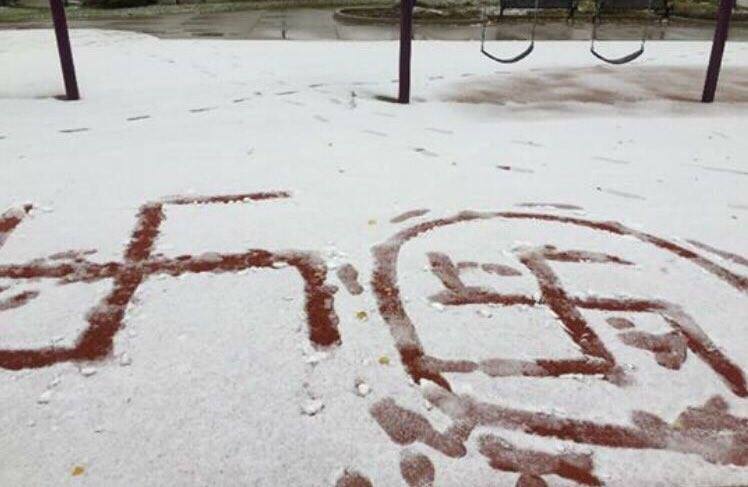 Nov. 28, 2018
By Daniel Koren
Manager, Media Relations & Communications
B'nai Brith Canada
TORONTO – Statistics Canada has released its dossier on police-reported hate crimes for the year 2017 – and the results confirm a worrying trend highlighted in B'nai Brith Canada's 2017 Annual Audit of Antisemitic Incidents, the authoritative document on antisemitism in Canada.
In response, B'nai Brith is urging government bodies to take action by implementing measures in the organization's Eight-Point Plan to Tackle Antisemitism.
StatsCan data, released Thursday, indicates that hate crimes against Jews in Canada rose by nearly 63 per cent over the year 2016, with hate crimes overall up 47 per cent. Mirroring the Audit, the data shows that Jews remain the most-targeted religious group in Canada.
Meanwhile, hate crimes targeting religion were up by more than 80 per cent, with the Muslim population (about 1.05 million in Canada) accounting for 17 per cent of all hate crimes, while hate crimes targeting the Jewish community (about 375,000 in Canada) accounted for 18 per cent.
Hate crimes against Catholics and other religions also increased in 2017, as well as crimes motivated by hatred of a race or ethnicity.
"This year's StatsCan report is simply too stark to ignore, and reiterates what B'nai Brith has been saying for years – that we need real and effective measures to extinguish this rise in hatred," said Michael Mostyn, Chief Executive Officer of B'nai Brith Canada. "In early November, Canada's Prime Minister apologized for the tragedy of the MS St. Louis in 1939, noting that antisemitism is still a major problem in this country and promising a concrete plan to combat it.
"There can be no delay in fulfilling these commitments. B'nai Brith is urging all levels of government to seriously address the specific proposals in our Eight-Point Plan, which includes development of a cutting-edge national action plan to combat antisemitism, now."
To combat anti-Jewish hatred, B'nai Brith is proposing an Eight-Point Plan to Tackle Antisemitism, incl. a no-tolerance approach to public funding of events that allow it, government action against #antisemitism on campus and adopting a National Action Plan. #BBAudit2018 #cdnpoli pic.twitter.com/ZyKhhGZoDe

— Michael Mostyn (@MichaelMostyn) April 25, 2018
B'nai Brith remains in dialogue with Canada's Chiefs of Police, as well as with leaders from across the political spectrum, on adopting its recommendations. In its meetings, B'nai Brith has urged the adoption of a standardized definition of an antisemitic hate crime as well as better reporting for racist and antisemitic incidents that do not meet the criminal threshold.
"By adopting the International Holocaust Remembrance Alliance (IHRA) definition of antisemitism, Canada could better address this scourge of antisemitism," Mostyn said. "The government should also commit itself to creating the position of an Ambassador or Special Envoy to Monitor and Combat Antisemitism."
B'nai Brith has also developed a series of proposals on strengthening Holocaust education in Canada in response to rising rates of Holocaust denial and obfuscation.