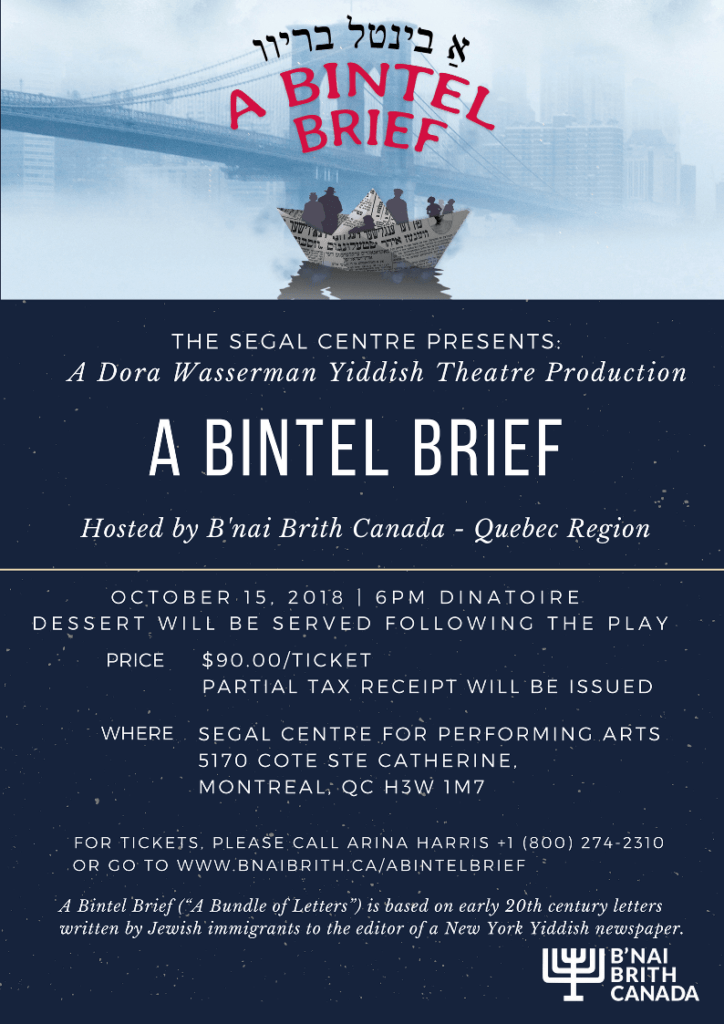 Hello theatre lovers!
Thank you for your ongoing support of B'nai Brith Canada, and for your dedication to Montreal's blossoming theatre scene! The 2018-2019 season promises to be truly unforgettable, and will include productions by the Dora Wasserman Yiddish Theatre (DWYT) players at the Segal Centre for Performing Arts.
Through the combined efforts of B'nai Brith and the Segal Centre, we are pleased to invite you a special evening for a Dinatoire and Performance of A Bintel Brief, the DWYT's latest production of memorable and entertaining Yiddish theatre.
Come and join us for an unforgettable evening of Yiddishkeit!
Cost: $90. Attendees will receive a partial tax receipt.
Where: Segal Centre for Performing Arts
When: Oct. 15, 2018 starting at 6 p.m.
For tickets, please call Arina Harris at 1-800-274-2310 or email her at [email protected].
Please share this invitation with your friends and help us make this a SOLD OUT performance!
Synopsis: A Bintel Brief ("A Bundle of Letters") is based on letters written by Jewish immigrants to the editor of the Yiddish newspaper Forverts (The Jewish Daily Forward) in the early 20th century. From romantic quandaries, family quarrels, and the challenges of assimilation to the hardships, tragedies, and disillusionment they faced following their arrival in the New World, these letters reflect the daily realities of Eastern European Jewish immigrants adapting to their new lives in North America.
Told through comedy, drama, and song, A Bintel Brief presents the true life stories of strangers in a new land and serves as a poignant reminder that the immigrant experience is universal and timeless.
See you at the theatre!