City News
October 26, 2023
'A great soul': Funeral for Montrealer killed in Israel during Hamas attack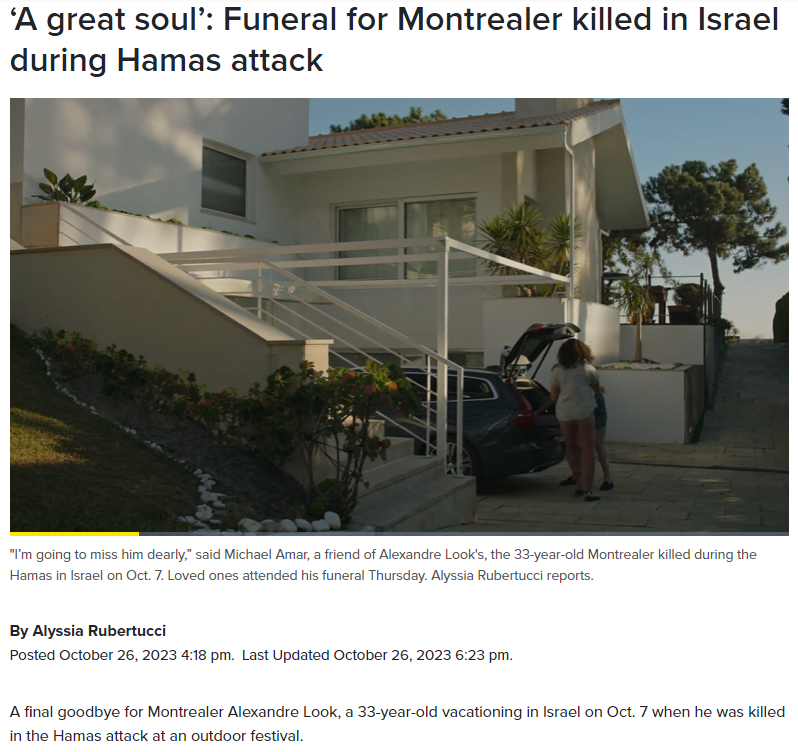 A final goodbye for Montrealer Alexandre Look, a 33-year-old vacationing in Israel on Oct. 7 when he was killed in the Hamas attack at an outdoor festival.
Friends and loved ones paying their respects on Thursday at his funeral in Montreal.
"A great great soul, a great person. I'm going to miss him dearly," said Michael Amar, a friend of Alex. He lived with him in Florida for three years.
"It's sad what happened to him, it's a tragic event and the way he was taken but he's a hero in our hearts," says Amar.
When CityNews spoke to Alex's parents Alain and Raquel on Oct. 10, they said they were on a video call with him as the attack was unfolding.
"I heard a multitude of rounds of shots, it's a sound I probably will all never forget," said Raquel. "I screamed to my husband, 'They're murdering our son.'"
Alex was dubbed a hero by witnesses at the festival, as his parents were told he was protecting around 30 people sheltering in a bunker with him. He was among the 260 killed while at the festival in southern Israel, in the desert near Gaza.
"He died saving the lives of others," said Rabbi Reuben Poupko, co-chair of the Centre for Israel and Jewish Affairs-Quebec (CIJA-Quebec). "A wonderful young man at the prime of his life, and he like 1,400 others, were murdered."
"It's a tremendous feeling of sadness that we have to bury one of our sons who was murdered for being Jewish," said Henry Topas, Quebec regional director, B'nai B'rith Canada.
"When something happens to one of us, it happens to all of us," says Polly Storozum, former president of the Beth Ora synagogue.
Many loved ones remembering Alex and what they'll miss about him like his laughter.
"I'll remember his good personality, his great sense of humour," said Amar. "He was dedicated in helping anyone in any way possible.
"I cherish and share so many great memories with him and they're always going to be in my heart forever," Amar added. "We love you, Alex, and heaven has a beautiful angel."