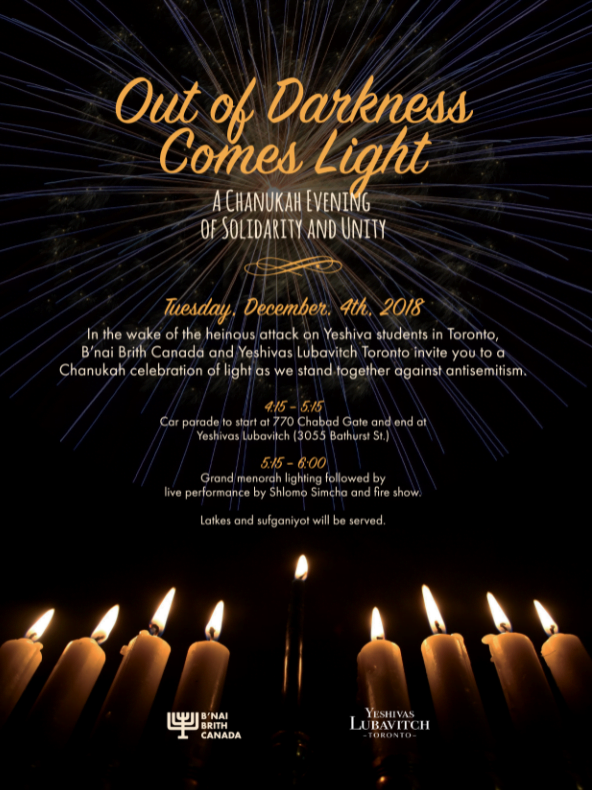 Nov. 26, 2018
B'nai Brith Canada and Yeshivas Lubavitch Toronto are proud to invite you to Out of Darkness Comes Light: A Chanukah Evening of Solidarity and Unity.
In the wake of the recent heinous attack on four Yeshiva students in Toronto, who were harassed and discriminated against on account of their religion, it is more important than ever to stand united against antisemitism and hatred in all its forms.
That's why we're asking you to join us on the third night of Chanukah, Tuesday, Dec. 4, 2018, for this important community celebration. Bring out your friends and family!
Political dignitaries will be in attendance.
As part of the event, a car parade will begin at 770 Chabad Gate in Thornhill, Ont. at 4:15 p.m. and end at Yeshivas Lubavitch Toronto at 3055 Bathurst Street at 5:15 p.m. The parade will be followed by a grand menorah lighting, fire show and live performance by renowned musician Shlomo Simcha.
Admission is free. Latkes and sufganiyot will be served.
See you on Tuesday and Chag Chanukah Sameach!