JEWISH HERITAGE MONTH PARTNER: Midland, Ontario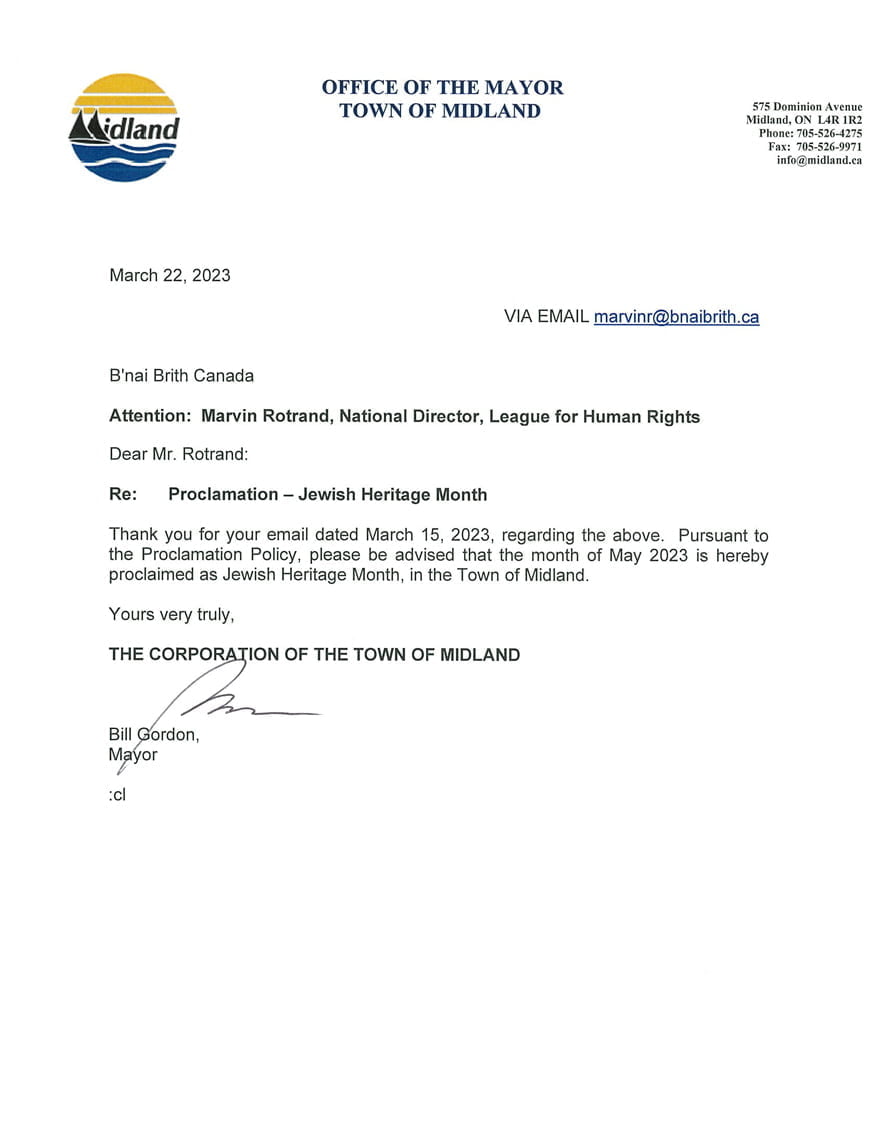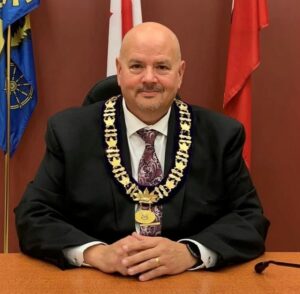 Midland is a town located on the southern end of Georgian Bay with a year-round population of around 17,000. In summer months, the local population can grow to over 100,000 residents who come to enjoy the beaches, cottages and resorts. Notably, Midland serves as the economic centre of the Georgian Bay region.  
Though Midland has never held a sizable Jewish population, the Jews that called Midland home still made an indelible impact. In the 1950's and 1960's, the town had five Jewish families that would gather with other Jewish families in Orillia to celebrate the high holidays. The families would rent a hall and bring in a rabbi to celebrate together. On Sundays, the families would drive to Toronto to stock up on kosher foods.  
We thank Mayor Bill Gordon for proclaiming May 2023 as Jewish Heritage Month in Midland.
Midland est une ville située à l'extrémité sud de la baie Georgienne avec une population d'environ 17 000 personnes toute l'année. Pendant les mois d'été, la population locale peut atteindre plus de 100 000 habitants qui viennent profiter des plages, des chalets et des centres de villégiature. Notamment, Midland sert de centre économique de la région de la baie Georgienne. 
 
Bien que Midland n'ait jamais eu une population juive importante, les Juifs qui ont élu domicile à Midland ont toujours eu un impact indélébile. Dans les années 1950 et 1960, la ville comptait cinq familles juives qui se réunissaient avec d'autres familles juives à Orillia pour célébrer les grandes fêtes. Les familles louaient une salle et faisaient venir un rabbin pour célébrer ensemble. Le dimanche, les familles se rendaient en voiture à Toronto pour s'approvisionner en aliments casher. 
 
Nous remercions le maire Bill Gordon d'avoir proclamé mai 2023 Mois du patrimoine juif à Midland. 
2022 JEWISH HERITAGE MONTH PARTNERS
2022 COMMANDITAIRES DU MOIS DU PATRIMOINE JUIF