B'nai Brith Canada is teaming up with synagogues in Toronto to host local debates in the run-up to June's provincial election.
In the interest of accommodating everyone, all election debates this year will be held both in-person and virtually – and everyone is welcome to attend, no matter where you are located.
Be sure to follow B'nai Brith on Twitter and Facebook for regular updates on our resources for the 2022 election.

The following debates are confirmed: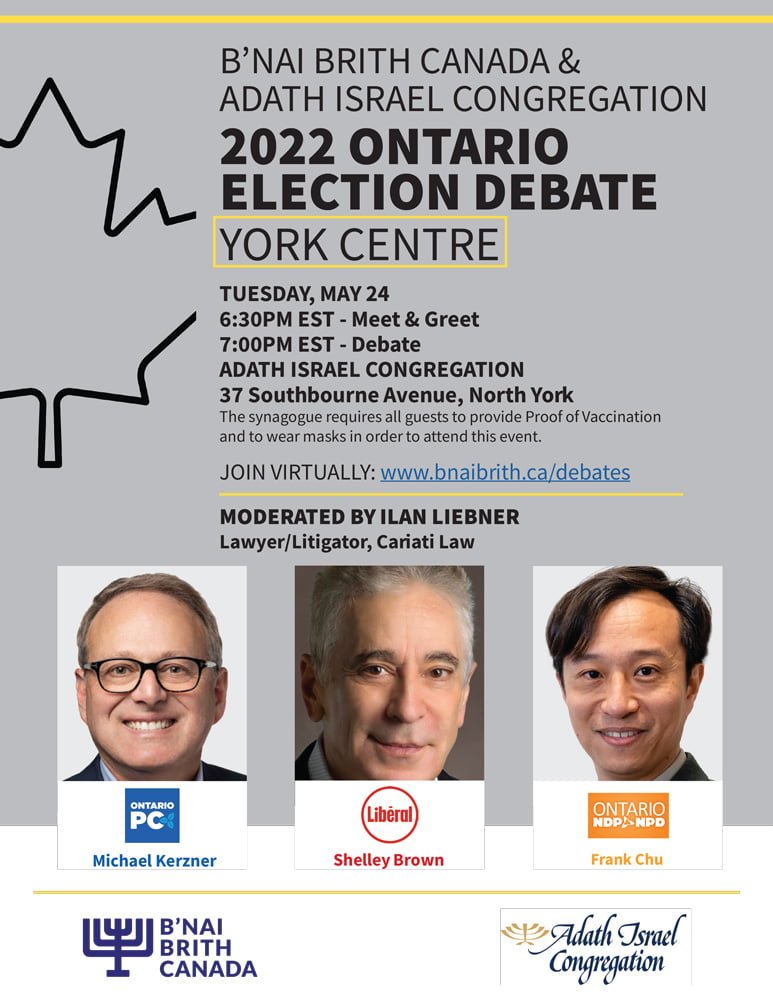 Join us on:
Tuesday, May 24 
6:30PM EST – Meet & Greet
7:00PM EST – Debate
Adath Israel Congregation
37 Southbourne Avenue, North York
All guests are required to provide Proof of Vaccination to the synagogue in order to attend this event.
To hear from York Centre candidates:
• Michael Kerzner – Conservative
• Shelley Brown – Liberal
• Frank Chu – NDP
A debate moderated by:
Ilan Liebner, Lawyer/Litigator, Cariati Law
To join virtually click the button below (link available May 24 at 7:00 pm EST)

 
Thursday, September 2 – 7:30 pm
To hear from Thornhill candidates:
• Gary Gladstone – Liberal
• Melissa Lantsman – Conservative
A debate moderated by:
Aidan Fishman, Associate in Toronto office of Borden Ladner Gervais LLP