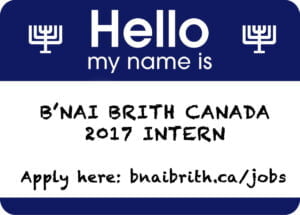 B'nai Brith Canada is offering a multitude of paid summer internship positions at our offices across Canada, in the cities of Toronto, Montreal, Calgary and Winnipeg.
Students are encouraged to apply directly to the email associated with each individual job posting, as listed here.
The B'nai Brith Canada Student Internship Program is an effort to build our community across Canada by investing in the leaders of tomorrow: our students. The program provides a tremendous learning opportunity for students who will develop skills through participating in B'nai Brith's communications, advocacy, community care and sports initiatives.
Positions include, but are not limited to, Human Rights Researcher; Program Development Researcher, Sports; Content Development and Design Assistant; New Media and Marketing Manager; International Relations and Foreign Policy Researcher; and others.
Details regarding each individual position (including salary, start and end dates, etc.) will be discussed in person. To peruse the full list of roles available, click here.